Spyski
Steven Canny and John Nicholson
Produced by Peepolykus and Lyric Hammersmith, in association with West Yorkshire Playhouse and Warwick Arts Centre
Courtyard Theatre, West Yorkshire Playhouse, Leeds, and touring
(2008)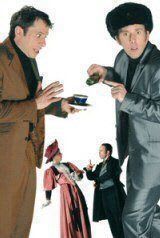 A group of actors playing The Importance of Being Earnest become involved in a spy plot and blah blah blah.
Peepolykus - the whole team - is inventive, intelligent, talented, and endlessly comedic . But, for some of us, endless, relentless, depthless, monopaced comedy wilts after five minutes. This is TV fodder, not theatre: Fast Show sketch, out of a Goodies plot. They don't S T R E T C H a funny sketch. They just keep going at the same frenetic pace - old gags, new gags, word gags, sound gags, sight gags, in gags, out gags . As one sophisticated young audience member murmured, "They seem to be enjoying themselves more than I am!"
But the theatre is packed and Peepolykus is like a boy band playing to adoring fans. The only thing they can do wrong is stop being. What? only one hundred and five minutes of fun! How tragic! We must laugh louder!
If you love 'em, you'll love Spyski: if not, it's like having your head in a bag of wasps.
Playing until 15th November, then Warwick Arts Centre
Philip Fisher reviewed this production at the Lyric, Hammersmith, and Peter Lathan reviewed it at Northern Stage, Newcastle
Reviewer: Ray Brown