Squirrels / The After Dinner Joke
David Mamet / Caryl Churchill
Orange Tree Theatre
–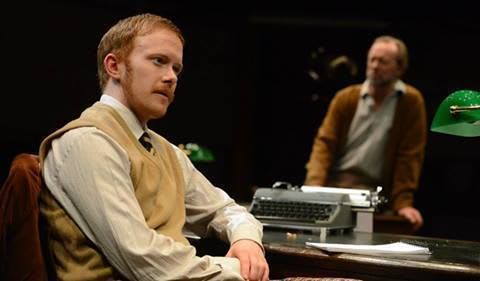 This double bill offers a rare chance to see a David Mamet play from 1974 and A Caryl Churchill play first seen on the BBC's Play for Today in 1978. They provide an opportunity to see the work of two young directors who have been the latest participants of the Orange Tree's Trainee Directors Scheme.
In Mamet's Squirrels, writer Arthur has the idea of a man on a park bench who is approached by a squirrel. Man has no food to offer but holds out a hand, the squirrel bites it. The man grabs the squirrel and squeezes it until he throttles it. Now where do you take that story? That is the question in which Arthur and his recently employed amanuensis-come-collaborator Edmond are engaged.
Arthur is past his sell-by date as a writer. He was good once; the office cleaning lady says so, but now dubs him a wanker, though admitting he still has a way with adjectives. One problem is that Arthur is obsessed with squirrels and he is going round in circles. Every new start comes out with a nearly identical version of the same story.
This is a look at the mechanism of creativity or lack of it, the relentless rule of the old unities, but like Arthur the play would get nowhere were it not for the intervention of the cleaning lady who is always popping in to "make herself available" with offers of sex and news of her own literary efforts for she is a scribbler too and one with a wider imagination. Her advice is that Arthur should go to Paris and suffer.
David Mallinson and Peter McGovern are a well-contrasted, brain-stalled Arthur and younger, more lively Edmond, but it is Janet Spencer-Turner's cleaning woman who gives the play its humour and vitality before compliant Edmond rebels against squirrel dominated thinking.
The play's thematic repetitions could easily become boring, but director Lewis Gray paces its many short scenes carefully with designer Sam Dowson and lighting designer Stuart Burgess providing a simple pared down setting.
In The After-Dinner Joke Caryl Churchill takes a look at charities and they way they operate. Although written before the days of Internet campaigns, it is just as apposite today as when first presented.
It follows an idealistic young woman called Selby (Lydia Larson) through the world of charities and NGOs as she learns to accommodate her ideas to the needs of economics and marketing.
Charities, she soon discovers, depend on capitalism for their existence and, though the Charity Commissioners insist that all bodies qualifying for official recognition as charities must be non-political, it is almost impossible, as her discussions with the town Mayor make clear, to find anything that doesn't involve politics, except perhaps his pet snakes—and even dead snakes can be turned into handbags and footwear and become part of the luxury economy and hence probably political.
Since the techniques of fund-raising require making people feel good, not upsetting or blaming them, telling how it is, become difficult. The use of relief funds too often ends up in effect reinforcing what caused the problem in the first place if you are not allowed to take a political action.
There is a danger that this play too could become repetitious but Churchill makes her points through humour and director Sophie Boyce keeps things moving at a spanking pace, drawing on broad theatre and music hall elements to enable her company to sustain momentum and to switch between multiple characters.
The satire may be broad but it is hard-hitting. As the campaign organiser points out, charity aid is fractional compared with aid provided by governments (which almost always has political or economic strings attached).
It makes one wonder whether, when you put your hand in your pocket, it should be the politically campaigning bodies you should support instead of those with charity status.
Reviewer: Howard Loxton