SS Mendi: Dancing the Death Drill
Isango Ensemble, based on the book by Fred Khumalo.
Nuffield Southampton Theatres and Isango Ensemble
Linbury Theatre, Royal Opera House
–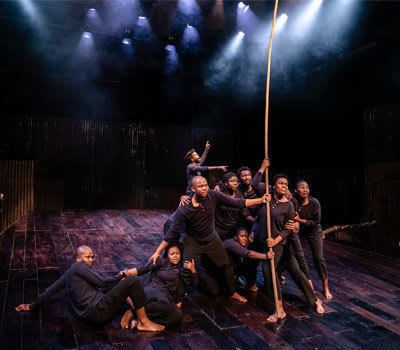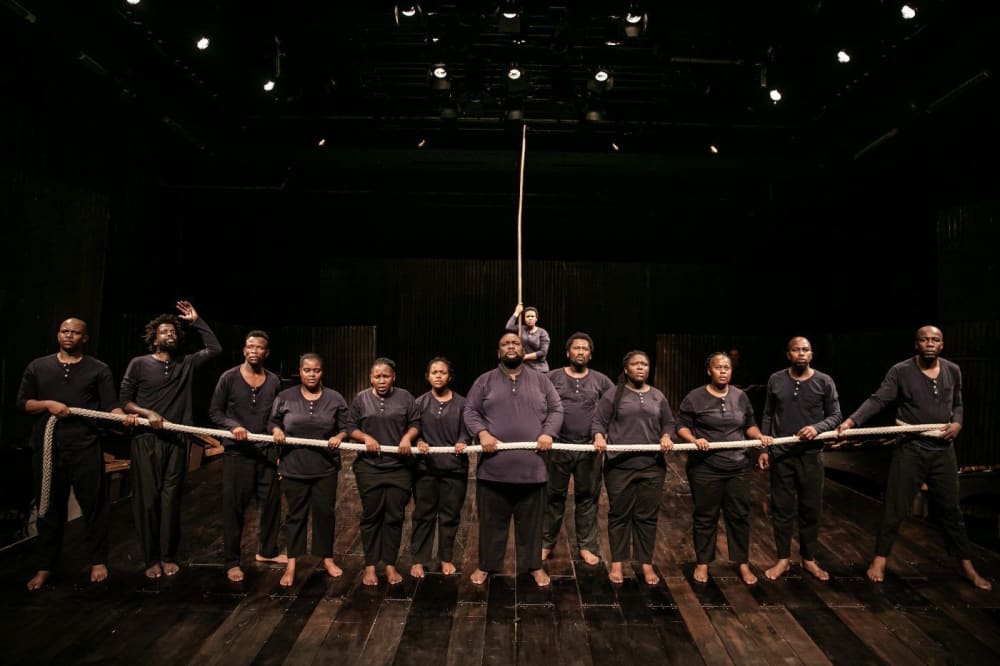 Co-commissioned by the 14-18 NOW WWI Centenary Art Commission and Nuffield Southampton Theatres, where it premièred in 2018, SS Mendi: Dancing the Death Drill is inspired by the tragic sinking of the merchant ship SS Mendi just off the Isle of Wight in 1917.
It is a little-known incident here but in South Africa there is an annual memorial day and since 2003 the Order of Mendi has been the highest medal award for acts of bravery. Capetown's Isango Ensemble has in this work created a moving requiem for the lives lost then in presenting the story of the men of the South African Native Labour Corps, 618 of whom, including Swazi, Pondo, Zulu, Xhosa and Menu, were drowned.
On an empty stage of sloping wooden boards, imposingly massive Zamile Gantana sits on a crate and begins explaining how they men were recruited to support British soldiers in the war in Europe. These men, who saw themselves as warriors out for honour, were in fact to work as labourers and dig trenches for white folks. In fact, they got only as far as Southampton then, soon after setting out for Le Havre in thick fog, SS Mendi was rammed by a bigger vessel and rapidly sank. "We rehearsed," he tells us, "within 100 metres of where the men last encamped in Southampton. This is our lament for the souls of the dead."
If you have ever seen an Isango production, you will know what a wonderful sound they make with their combination of marimbas, drums, stamping and clapping and a rich range of voices. Music directors Mandisi Dyantyis and Paulina Malefane interweave African traditional forms with classical and ecclesiastical music and World War One marching songs, washboards providing the sound of the sea. Lungelo Ngamlana directs movement that converts everyday action into dance forms.
The dead announce their names, ages and culture beginning a catalogue of victims; then director Mark Dornford-Mays's adaptation presents a clear telling of their story from first enrolment to the sinking and after.
They sign up to a 12-month contract under military discipline for just £3 a month. As each reads it in their own language, the sound resolves into the singing of the Empire's and our National Anthem "God Save the King". But the response to their loyalty is contempt and brutality.
We see them travel by train to Capetown, board ship and embark on their 34-day voyage to Southampton. The ship itself becomes personified: Nolubabalo Mdayi draped in blue and singing a soaring aria.
Is this next port England? No, it is Lagos or elsewhere on route. Then at last they are at Southampton and set off for France in a fog that is jokily presented by Zoleka Mpotsha. This isn't all gloom but full of humanity and humour.
It isn't just a picture of white treatment of black men: the white man (Jack Ellis) who gives them orders is himself underprivileged and there are tribal and ethnic divisions among the enrolled men; a young man who has not yet been through circumcision is ostracised as unlucky.
Mandisi Dyantyis plays a preacher made translator who tries to prevent conflict and then leads the final dance which, according to legend, united the men as the ship went under, stamping the "drill" and raising their voices. Then there is an inspired moment as the spirit of the ship herself accepts sinking.
But that's not quite the end. There's a coda. Amazingly, in the all-white South African parliament, Prime Minister Paul Botha reported the tragedy and praised the men of the Labour Force, but appreciation stopped there.
In the UK, an investigation found Captain Stump of the SS Daro, which had ploughed into the Mendi at full speed, guilty of "having travelled at a dangerously high speed in thick fog, and of having failed to ensure that his ship emitted the necessary fog sound signals." He had caused 646 men to die (618 of the Labour Corps). Though the Darro's lifeboats rescued over 100 survivors, the ship did not stay to aid rescue. The court suspended his Master's License for just 12 months.
SS Mendi: Dancing the Death Drill lasts 1 hour 40 minutes with no interval. Performed with passion by a splendid cast (among whom those already mentioned, with Ayanda Tikolo, Masakane Sotayisi, Thobile Dyasi and Thandolwethu Mzembe are just the most noticeable) it is totally engaging.
Though its subject is tragic and it highlights inequalities and injustice that still plague us, it is stimulating theatre that is life-affirming. Isango Ensemble can be very proud of this moving requiem.
Reviewer: Howard Loxton