Stage Fright
Lynn Howes
Canal Cafe Theatre, Little Venice, London
(2010)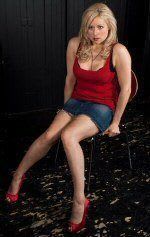 The publicity for this amusing 90 minute comedy describes Lynn Howes' new play as both a 'savagely funny satire' on the cult of celebrity in the theatre and a 'thought-provoking tragicomedy'.
Take your pick of the epithets. What really happens is an ingenious battle of wits between a hard-up playwright Peter, his actor-laddie friend Charles, bursting with bonhomie and testosterone, and Geraldine, an ambitious blonde actress taking them both for a ruthless ride in her search for fame and the bright lights of the West End.
I hope it's not a plot spoiler to hint that all three characters succeed professionally if not quite as they had planned. But I shall not reveal whether Charles, performed with boundless energy and wit by Sion Tudor-Owen, finally gets his eager hands on the delectable Geraldine.
She is played with dazzling attack and total conviction by rising theatre star Abi Titmuss in a role that could almost be a tongue in cheek self-portrait.
Alex Barclay's Peter, an actor-dramatist determined to direct his own play, is the man in the middle: a stooge to his friend Charles and a fall-guy for Geraldine to manipulate when she decrees that his latest crime thriller should be relocated from icebound Russia to a sunny climate so she can shed a few clothes and enjoy the heat.
This results in a series of spirited rehearsal scenes as characters are handed on from one actor to another in what eventually becomes the thespian equivalent of a farcical pass the parcel, each in turn ending up as the victim of Peter's abduction plot.
This is Lynn Howes' fourth and most ambitious play to date, revealing her skill in building a situation from amusing conversational exchanges, especially in the opening scene when her two male characters are explored with impressive economy - not a word wasted.
Praise is also due to artistic director Emma Taylor, who loves staging three-handers and here directs with an understanding hand that allows each of her three actors to open out their roles through their own very individual performing styles.
Reviewer: John Thaxter