Stairwall – the things we find
Esther Huss
Esther Huss
Percy A Hudson Timber Yard, North Shields


Listing details and ticket info...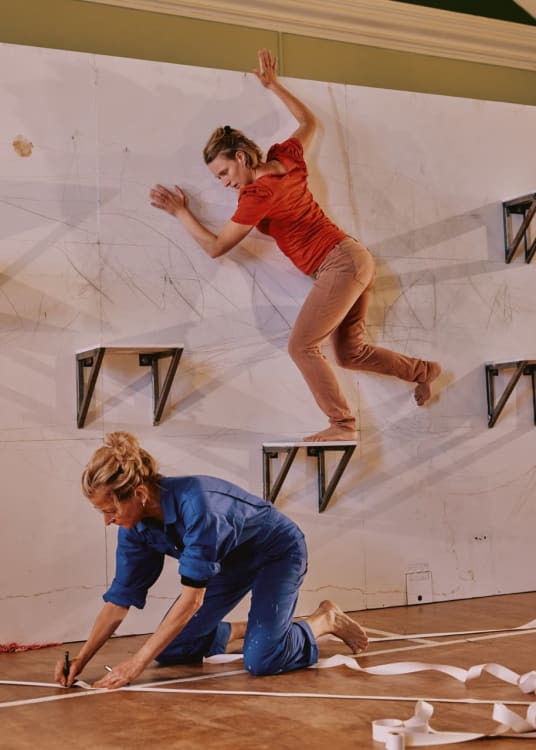 German born independent dance artist Esther Huss, who has been based in Northumberland since 2019, brings her new work Stairwall to non-theatre settings during October and November and I caught up with this eccentric and charming piece at the timber merchants Percy A Hudson in North Shields.
As I approached, the timber workers were busy sawing planks and indeed one appeared in the show itself, artfully wandering in and out.
Esther and visual artist Claudia Sacher and composer, sound artist Jeremy Bradfield enter the performance space and sit with their backs to us. They watch a film on an old TV and listen to a man talking about the circus coming to town—the film doesn't seem to match his words and this juxtaposition of apparently unrelated elements sets the tone for this slightly absurdist piece, giving an affectionate sense of anarchy to Stairwall.
The set, built by Jona Aal, is a wall that represents an artist's studio on one side and a wall with shelves or steps on the other. It is such an important element, almost another performer, and there are some great surprises. Bradfield sits to one side, surrounded by unusual and quirky instruments.
Esther has already made a number of works for gallery spaces and has a clear style and intention. She knows what she wishes to communicate to us and her dancing is gentle and responsive. Claudia Sacher works with and around her and, in one section, creates a painting on the wall as Esther slowly climbs it.
There are a number of different sections, not obviously connected but often evoking the circus in some way. The work opens quietly and meditatively and later, there's a wonderful, lightly chaotic scene when Esther attempts to perform on what looks like a slice of cheese whilst Claudia throws items freely and sometimes fiercely, disrupting events. There's also a dance with an alien, reptile, jellyfish—it's up to the audience to decide.
Bradfield's music develops well during the show, bringing playful and unusual sounds; he plays an extraordinary cello-like structure, alongside plastic piping, more conventional instruments and his own voice.
Lighting by James Froment is simple and atmospheric, and costumes are by Imogen Cloet.
The piece is less about connecting to the North East and its heritage than about recreating an almost Dada-like world, which is also familiar in some way. The circus idea is a stimulus, an event that most of us know, and it's a wonderful, skilled work, which unites different art forms in a warm and eccentric way. There's enough improvisation for the audience to be amused and excited but never worried and the team clearly love working together. Stairwall ends quietly and rather magically and will certainly awaken different memories and associations for everyone.
A good-sized audience had found its way to the timber merchants and the show was warmly received. There are further events in Northumberland and an exhibition on 3 and 4 December at Cambois Miners Institute.
Reviewer: Dora Frankel