Stand By
Adam McNamara
Utter, in association with The Byre Theatre, St Andrews
Army @ The Fringe in Association with Summerhall
–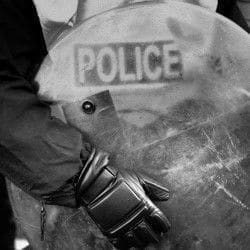 Sitting on four seats within a steel rod and wire mesh frame of a police van, four tired and irritable police officers are passing the time. They're waiting outside a potential hostage negotiation situation and are expecting a long and dull night.
Written by Adam McNamara, himself an former police officer, the script is a convincing and realistic portrayal of frayed nerves, irritable tension and boredom, giving us four characters whose personalities are disimilar enough to make them both like and annoy each other. And as the story unfolds, we learn that each has their own foibles and home lives that are impinging on their mental state.
There's also a multi-sensory aspect to the play, as each audience member is given a radio and D-ring earpiece to wear throughout. The radio chatter, performed admirably by a host of young Scottish acting talent, including Daniel Portman and Jack Lowden, comes intermittently and gives a nicely immersive sense to the communications with other police units rather than simply broadcasting the chatter over a speaker.
It's an entertaining play with some good laughs and snappy dialogue, as well as some moments of physical theatre to liven up the visual aspect of a story essentially taking place almost entirely in a van.
The let-down of the piece is that. in creating an evocation of boredom and exhaustion, McNamara and director Joe Douglas have created a play that itself does start to grate after a while. The soap-opera aspects of the four officer's lives are all quite facile and, despite the good acting, it's hard to deeply empathise with the somewhat stock characters.
Reviewer: Graeme Strachan