STAND
Chris Goode
Chris Goode & Co
South Street Arts Centre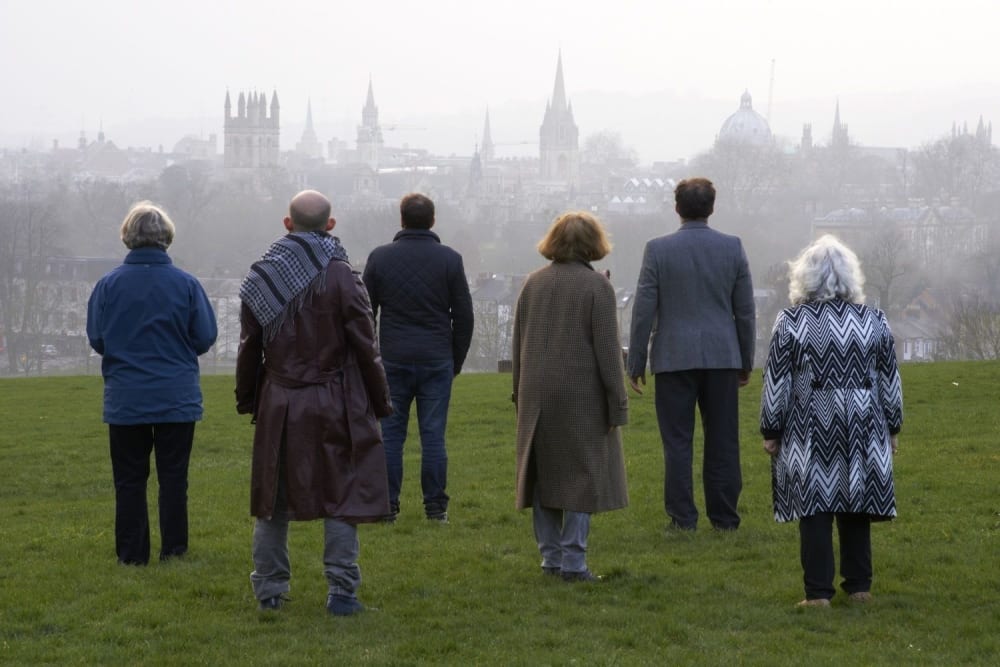 This stripped-back piece of verbatim theatre is an homage to the power of careful editing.
Through numerous interviews with people who have taken action on an issue they care about locally or globally, Chris Goode has constructed a script that carefully weaves a subtle narrative, without ever deviating from the honesty of the interviewees' actual words.
6 actors sit in a line with their scripts before them on stands; there is no pretence here. It is direct and it is clear. These are ordinary people, talking in an ordinary way, describing extraordinary events.
From Super-Gluing themselves to the offices of a fracking PR company, to simply speaking out about something happening on the bus, these extraordinary actions remind us how easy it is to take action for something we care about, and how often we don't. These everyday people, ranging in age from 30 to 82, highlight the common humanity that we all share, and their own inherent diversity challenges the stereotype of the activist as 'hippie'.
The set, designed by Naomi Dawson, is sparse and simple, and reminiscent of a game show, with tall stools, round tables and a bottle of water on each. Staging a piece like this, in its most simplest possible form, demands that each speaker is equal, and allows the voice to take centre stage.
This work is all about voices, and the people who use them. Their stories are all about voices, speaking out and speaking up. Even in their own stories, these people don't take centre stage; they are all keen to remind their interviewer that the story is not theirs, the action, the experience, the purpose, is a shared one. It is action taken for all of us, even though we rarely see it.
The script's editing very cleverly reflects the nature of a rambling anecdote, taking tangents, leaving gaps, and eventually weaving back to the original point. The performances are outstandingly unperformed. It is hard to read text from a page as if it is your own words, and to portray character without acting at all and these six actors manage it with aplomb.
Knowing one of the interviewees for this piece meant that I could vouch even for the nuances of character and body language portrayed through expertly delivered, naturalistic and subtle physicality. They captured an essence of the real person, his tone of voice and his hand gestures, quite brilliantly.
This production doesn't leave the audience fired-up, ready to join the cause, empassioned and outraged, and for a while I felt disappointed at that lack. It does, however, leave you with an opened window, an opportunity.
There is no training course, no qualification needed, no traumatic event, no milestone required to get involved in positive action. It simply needs a bit of curiosity, or a decision, maybe a firm step in a particular direction.
The only thing that these characters really have in common is the fact that they were willing to take a stand. Sometimes it works, and sometimes it doesn't, it's the trying that matters. And it is this tiny, almost anti-climactic revelation that makes it possible for any one of us to be the person sitting on that stage.
With delicate moments of humour, droplets of poignancy, that feel almost accidental, because of the natural text, unaffected and unperformed, this is a simple and brilliantly affective piece of theatre that explores what it means to truly be part of a community.
Reviewer: Liz Allum