Stand 'n' Tan
Catrina McHugh
Open Clasp Theatre Company
The Customs House, South Shields
(2009)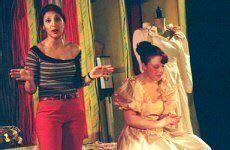 No stranger to packed houses, Open Clasp Theatre Company entertained another full auditorium at The Customs House in South Shields with its latest offering - Stand 'n' Tan, a revival of their 2004 production.
The North East's only professional women's theatre company is now well established in the region and delights with high energy, usually side-splitting performances. And Stand 'n' Tan is no exception. Bursting onto the stage with a dance routine to make Girls Aloud quiver, the all-female cast introduce the show as if speaking to waiting customers in a beauty salon, a novel technique that was lapped up by the audience. It is set during the run up to Joanne's (a loud but lovable beauty therapist) wedding and takes us through all the trials and tribulations that come with it - a manic, interfering mother, a stroppy teenage bridesmaid and a dress maker who has inconveniently sliced the tops of her fingers off whilst working on the cheese counter at Fenwicks.
But all of this is brought into harsh reality as we hear the heart-wrenching tale of Maryam, an asylum seeker who has stepped in to save the day as stand in seamstress at the same time as she battles to keep herself and her children in the UK and far away from the horrors they were subjected to in Iran.
All five women deserve high praise for their performances - Eva Quinn as the lively, excited bride-to-be; Paula Penman who showed great comic timing as the protective best friend and closet lesbian Sandra; Karen Traynor as the inspiring Maryam; Helen Embleton as the wayward little sister, and Catrina McHugh (also the writer), who excelled as the garish, racist mother, making Lilo Lil look like sweetness and light.
Alison Ashton's superb set adapts simply as the story takes us from beginning to end - through the chaos and cosmetics of the beauty salon to the sterile, tension of the Home Office.
With a feel-good soundtrack and plenty of gags Stand 'n' Tan was a light relief from all the heavy headlines of late, yet its serious undertones subtly remind you of wider issues without making you feel guilty for letting your hair down.
This tour ended at the Customs House
Reviewer: Emily Taylor