Stan Laurel: Please Stand Up
Bob Kingdom
Richard Jordan Productions in association with The Crescent Theatre
Warehouse Theatre, Croydon, and touring
(2008)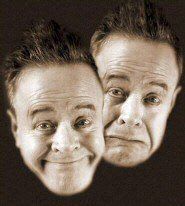 Writer and performer Bob Kingdom begins this one-man show as himself, remembering the 6d Saturday morning kids' matinees at his local Gaiety cinema in Cardiff and his favourites, the comic duo Laurel and Hardy; then, in a surreal twenty minutes or so he attempts to bring Stan Laurel's character down from the screen. Dressed in a long nightshirt he launches into a repetitive and unfocussed monologue about aspects his on-screen relationship with Ollie Hardy. He is in some sort of limbo, having fallen from a bed some where up there on the imagined silver screen, and he wonders how we have fallen there as well. It is an interesting idea, the character talking about the world within the films.
How true to the original creation this seems I must leave to fans of the Laurel and Hardy movies. I remember only a comic strip in Film Fun, and that was not one of my favourites. As an adult their films never really grabbed my interest, but I did find this lost middle-aged waif rather touching, especially when caught in a white spotlight, the mouth set into a fixed smile, the eyes sad and not understanding, the words coming out sometimes awkwardly in fractured sentences. But - and it is a very big but - as it rambled around in circles it brought on an increasing drowsiness and seemed to be going nowhere. Then the house lights went up for an interval. Unless I did actually fall asleep this must be the shortest first act ever.
For the second half we get a cardiganed and aging Stan giving us a run down on his life, professional and private. We hear about his debut at the Britannia Panopticon in Glasgow, early days with Fred Karno's army, sharing digs with Chaplin, for whom he did all the cooking, though Chaplin made no reference to him in his autobiography; his eight marriages to four women (work that one out); the way how Hardy left production ideas and the business side to him. He talks about his mentorship of other comedians -- Peter Sellars, Jerry Lewis even Marcel Marceau he claims. On the telephone he assures Dick van Dyke of his cockney accent: "You have to encourage people," he says, and he believes in passing on his knowledge and experience to a younger generation.
This gentle, unassuming fellow chatting to us shares these snippets of information but we don't really gain that much new knowledge and no attempt at a dramatic structure. Instead there is a sense of resignation and a feeling of being undervalued that makes it downbeat but not tragic and, perhaps deliberately, for this is a man who did not seem to want a public face, a lack of any charisma to engage an audience. This is a bit like a 'Meet Stan Laurel' evening when, like so many such sessions you never really get beyond the superficial and as a piece of theatre it never exploits its ideas dramatically.
Bob Kingdom has had earlier successes in similar shows as Dylan Thomas and Truman Capote, though I did not myself see them. They were people with much more forceful personalities than this Stan Laurel and perhaps that is the root of the problem. Though Laurel may have been the driving force in the partnership with Hardy, as this script suggests, this presentation seems to need his partner to act as foil to his personality and there is no sense here of another presence to throw sad Stan into sharp focus.
At Warehouse Theatre, Croydon, until 30th March (with a single performance at Hull Truck Theatre 25th March), then touring to Crescent Theatre Birmingham; Oxford Playhouse; Georgian Theatre Royal, Richmond; Maltings, St Albans; Colchester Arts Centre; South Hill Park, Bracknell; Yvonne Arnaud Theatre, Guildford; Rotherham Arts Centre; Millfield Arts Centre; Library Theatre, Luton; Eden Court Arts Centre, Inverness; Arc, Stockton on Tees; Forest Arts Centre, New Milton; Darlington Arts Centre; Regent Centre, Christchurch; Roses Theatre, Tewkesbury; Bedfringe, Bedford; Customs House, South Shields.
Reviewer: Howard Loxton