Stardust
Marc Day
Millfield Arts Centre, Edmonton
(2011)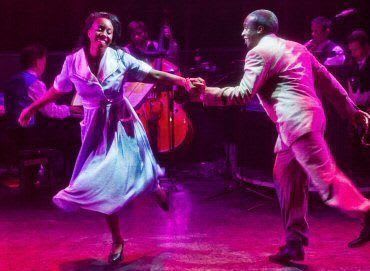 Having achieved success with their past two pantomimes, Millfield Arts Centre in Edmonton is on a roll. Not content with merely offering their patrons home grown festive fun, 2011 sees the birth of their first in-house musical, Stardust, written and directed by Millfield pantomime author Marc Day.
A gauze cloth greets the audience upon arrival and explains that 'stardust' can be defined as a magical or charismatic quality or feeling, especially in the context of success in the world of entertainment and sports. Success in the former is what young Millie dreams of and although her iron-lady like mama Ella would rather she settles down, Millie's hopes and aspirations, with a little help from blind date boyfriend Charlie, lead her to the Stardust Club.
As lovers Millie and Charlie, Ade Ladipo and Rohan Pinnock-Hamilton, lack romantic chemistry and suffer from slight awkwardness during some of their musical duets. That aside, both young actors offer engaging performances and otherwise hold their own in amongst experience stage veterans Derek Griffiths and Miquel Brown.
In the role of lovable rogue Frank, Griffiths demonstrates that he really is one of the country's best comic actors. A natural performer, he delights the audience with his wonderfully eccentric father figure alongside Brown's ice-maiden of a mother. The contrast between characters works well, particularly in show-stopping number 'Zing! Went The Strings Of My Heart' and could be extracted even further to fulfil its comic potential throughout the show.
Marc Day's script weaves a simple narrative between over 20 musical numbers and sadly suffers from the same complaints as its fellow jukebox musicals Mamma Mia and We Will Rock You. Sometimes the semantic link between scene and song is extremely tenuous and at other times songs seem mis-chosen or misplaced and at odds with the atmosphere. Day's use of monologues between musical numbers, however, works well in the dissemination of context and could be extended to provide more information, such as the time period as it is not overtly clear that the action takes place over seven years.
But like its fellow jukebox musicals, what Stardust lacks in narrative, it sure makes up for in noise. Songs such as 'Blue Moon', 'Dream A Little Dream', 'It Don't Mean A Thing' and 'On The Sunny Side Of The Street' are played by a glorious five piece band situated, rightly, centre stage for all to see. Each of the four performers accompany the band's melodies with their superbly rich voices as audience members are taken on a musical journey back in time to the days of swing and jazz.
Although, tellingly, no set designer is credited, effective projection is used at various points in the show and more could have been done to help establish setting. Perhaps future in-house musicals will make use of a community chorus, thus offering locals the opportunity to participate in a professional production, whilst helping dress the stage with bodies? The production would benefit greatly from some big dance numbers and extra bodies to depict passers-by and club members.
Millfield Arts Centre must be applauded for taking a gamble and producing original material for such a short run. A few tweaks are needed to make Stardust really shine, but the gamble has most certainly paid off and a fun night at the theatre is guaranteed.
Playing until Saturday 23rd July 2011
Reviewer: Simon Sladen