Starlight Express
Music by Andrew Lloyd Webber; lyrics by Richard Stilgoe; additional lyrics by David Yazbek
Sunderland Empire and touring
(2007)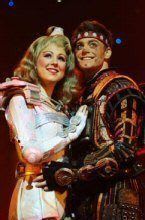 Andrew Lloyd Webber's Starlight Express has returned to the Sunderland Empire and it's even better than before.
Although very different to the original version of the show that ran in London for eighteen years, this touring version has a great set, terrific cast and 3D special effects for the race sequences. The production quality is so high it is worthy of a West End transfer.
The story was originally going to be used for an animated film but when that idea failed Andrew Lloyd Webber rewrote the story for his children and the musical opened in 1984. In the 90s it was updated and then in 2003 the present touring version was written (although the last time this show visited Sunderland part of the set reached in to the stalls which thankfully has been omitted on this tour allowing all the action to be on the stage and visible by all the audience).
The story is a simple one of hope and the tortoise and the hare scenario. Rusty and his father are steam trains and no apparent match for the new class of trains such as Electra and Greaseball . So when the trains decide to race everyone laughs when the old locomotive wants to join in one of the heats until he, of course, wins. But the race has been too much for him and at the final his place has to be taken by his son Rusty, who feels he is no match for the fast locomotives. Of course after much thought he does take his father's place and the outcome is assured.
One of the highlights of the show is not the racing but when Rusty sings Starlight Express, the set changes to stars and he appears to float above the set. The races are shown in 3D on a large screen, with announcements made when you are to put on the supplied special glasses.
The costumes for all the characters are first class and the cast are all excellent skaters and singers. The songs move the story along at a good pace, no matter if is Dinah singing U.N.C.O.U.P.L.E.D or the Company belting out Light at the End of the Tunnel.
This is a first class production for all the family so get your skates to catch this show!
Thanks to John's website Northern Footlights for permission to reproduce this review
"Starlight Express" runs at Sunderland Empire until 28th April
Reviewer: John Dixon