Star Quality
Noël Coward, adapted by Christopher Luscombe
An Ian Fricker production
Yvonne Arnaud Theatre, Guildford, and touring
(2011)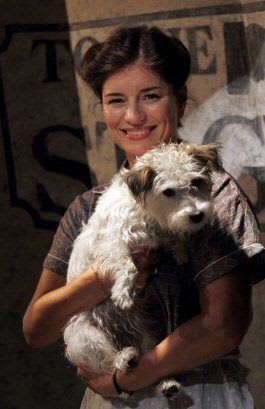 This show promised to have all the essential ingredients of a 'wickedly witty' Coward play, and the Guildford audience were obviously expecting as much as they flocked in to fill the theatre to capacity. Depicted is a world that he knew well, a play in rehearsal from the meeting of author, cast and creative team to the final triumphant first night, and the clash of super-inflated egos battling for supremacy ought to have provided some deliciously vicious one-liners at least.
As it is it delves deeper to the underlying insecurities inherent in almost all the acting profession, the bombastic jockeying for supremacy being merely a cover for their fragile sense of worth. We might sympathise with their feelings, but we are not stirred to either laughter or tears and the witticisms are few and far between.
Written in 1950 as a short story, it was not adapted for the stage until 1967, towards the end of Coward's life, and perhaps he was thinking back to the time when he himself was a young, inexperienced writer hopefully bringing his script to an established company and trying to persuade the star of the time to take the lead. However no way could I believe that this diffident, nervous and deferential writer could in any way have been Coward, even as a young man, although the praise heaped upon his work by all and sundry, soon to be replaced with criticism and complaints as work began, could easily have been his experience - once!
The cast do their best, but the action is slow, rather plodding, with some notable exceptions. Gay Soper as Nora, the leading lady's maid-cum-dresser, has a delightfully lugubrious expression as she delivers her lines dead-pan but with perfect timing. Even her dropping of a teaspoon has a wealth of comic significance - sometimes body language says more than words.
Anthony Houghton as Tony, the director's 'personal assistant', is the nearest performer to Coward himself, with clipped tones and complete self-assurance. He has the best lines, one or two quite outrageous, delivers them with louche panache and of course gets the most laughs.
Sonia Saville, standing in for an indisposed Amanda Donohoe, is word perfect and stronger in the diva role in Act Two as she rows with the director (Daniel Casey), and Saville's dog Lola, who 'just missed out on The Wizard of Oz', is making her stage debut as Boswell and is a total joy (as all dogs are).
The description applied by the 'director' to the over-effusive actress Marion (Sarah Berger) is "Thoroughly and appallingly competent", which could easily apply to the script. Not one of Coward's best. This Star Quality does not sparkle.
Tour ends at Cambridge Arts Theatre
Reviewer: Sheila Connor