When Do We Start Fighting?
Charlie Shand
The Kamichi Plan
Courtyard Theatre, Hoxton
(2009)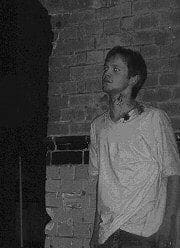 1968 saw a wave of political protest from the Paris 'Evénements' around the world. In the USA, earlier that decade, politicised students had formed an organisation calling itself Students for a Democratic Society (SDS) which demonstrated against the Vietnam War and racism and demanded civil rights but a caucus of those who felt peaceful protest was not achieving anything began to demand militant action and formed the Weather Underground Organisation (WUO), taking their name from a line in a Bob Dylan song "You don't need a weatherman to know which way the wind blows," quoted in a statement issued at a SDS Convention in Chicago in 1969 that coincided with the trial of Black Panther and Yippie activists the 'Chicago Seven.'
In October 1969 the WUO began what they had announced would be the 'Days of Rage', a series of demonstrations on the first day of which the police shot six rioting protesters. Shand's play begins with one of its bloodied victims looking back to that day and then plunges us into the life of Weatherman groups in Chicago and New York. At least, I think that is what it does, for this is not a play that aims at clear exposition. Nor is it deeply political, arguing theories and policies, although there is quite a bit of sloganising. Since we are only among the Weathermen themselves there is no critical argument concerning ideologies. It is neither a history of the organisation nor an apologia for it but an image of the tensions and uncertainties of those involved.
Among the characters is bomb-maker Terry (Fingal McKiernan), suggested perhaps by Terry Robbins who died when a bomb they were making blew up in the Greenwich Village house where they a group of Weathermen were living. However I don't think Shand is presenting us with historical characters but more of a metaphor for the whole movement. Was one group besieged, encircled by police in Chicago, or is this a metaphor for their isolation? Did they torture one of their members as a suspected police plant, or is this a dramatisation of their insecurities and fears, while one character, constantly going on about the article or book she is writing, suggests the ego-centred attitudes that could parallel selfless idealism? How you read this is up to you: when Terry is presented in a crucifixion image as a martyr you can choose whether to take it at face value or as a cynical propagandist manipulation.
You will find out more of the hard facts from a programme note and a supporting website www.wdwsf.co.uk (which even gives you the notorious Anarchists Cook Book) than you will from the performance, which often moves too fast to take in what information there is. What you won't get from black and white printed manifestos is the violence of feeling that emanates from these characters, the sense of trapped impotence as they wait for instructions or contact - it is not for nothing that the title is "When do we start fighting?"
Shand as director has done a splendid job in presenting this collage of moments: you may not always be able to follow what is going on but that seems partly his intention and he keeps hold of your attention with bold theatricality, his own insidious sound design and Nicola Smith's lighting. He is excellently served by a cast who give bold, energised performances, among them, if I have identified them correctly, honey-voiced Kelsey Cameron convincingly declaring "Without sacrifice we'll never make history" and blood-splattered Matthew Judd (though his pronouncements through a bullhorn are incomprehensible), Lucy Wallace as busily bonking Die and Amanda McLaren as the suspect plant, along with Michael Morrison, Keranjit Gumtali and Rebecca Killick.
A confusing evening, but a gripping one that made me want to find out more of the facts I wasn't given or failed to register and that finally turned what sometimes seemed frustratingly confusing into something positive.
At the Courtyard until 1st March
Reviewer: Howard Loxton