STATIk
Kevin Dyer (dramaturg)
Action Transport Theatre
Whitby Hall Theatre, Ellesmere Port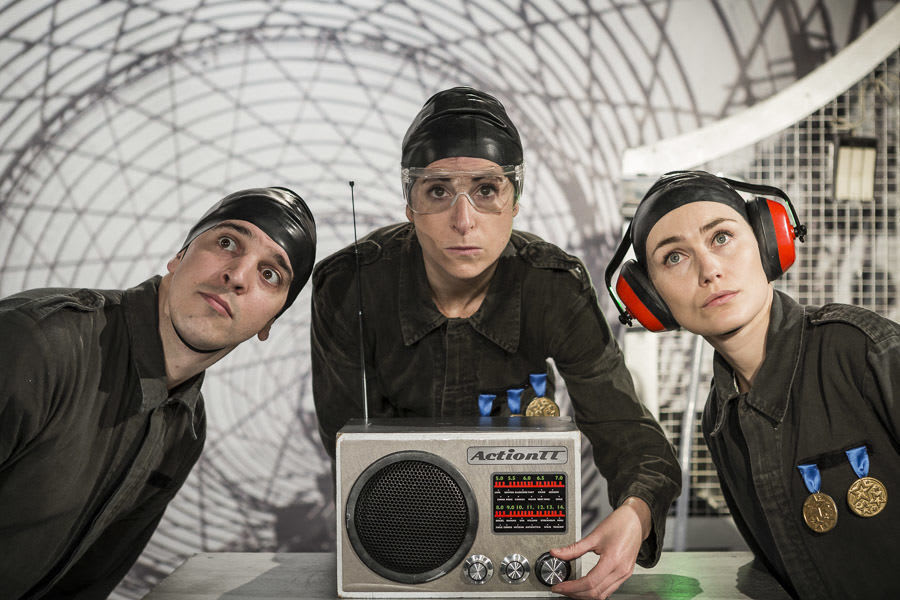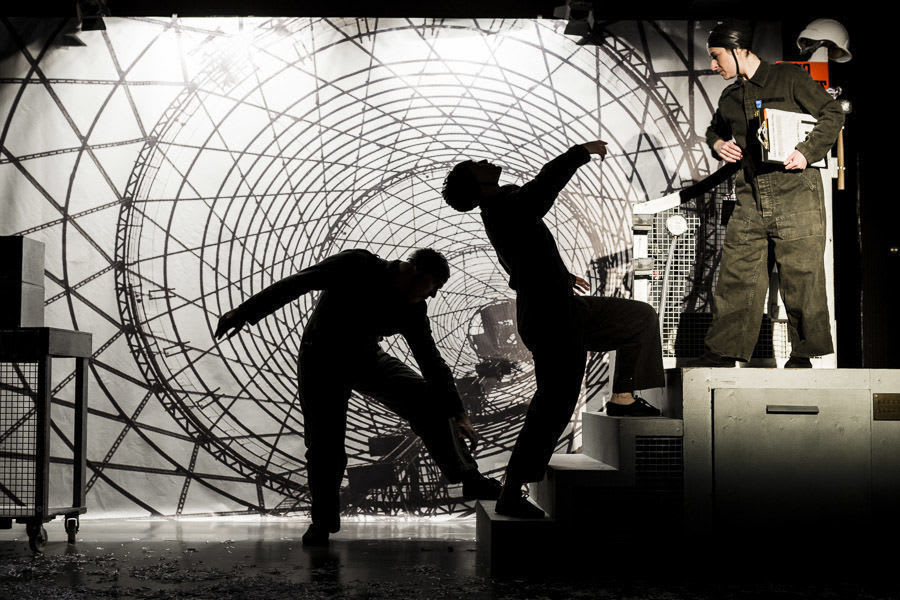 Action Transport Theatre shows always aim to be something more than fun distractions for the small children who are their usual target audience.
This revival of STATIk is a Modern Times for the very young, in which one character—played by Ady Thompson—brings a child's open-minded outlook to a hierarchical factory production line.
Thompson's naive clown calls into question the rules, the fairness and the conformity of a production line whose work consists of packing and stacking radio sets—radios which at times do not themselves seem ready to conform. These questions are clearly posed, though not a word of dialogue is spoken.
Credit to dramaturg Kevin Dyer and director Nina Hajiyianni who, along with their generous talented cast, show once again how actions can be more eloquent than dialogue. There are words here, though: a handful of brief recorded observations on life, distilled from interviews with hundreds of primary school children. STATIk makes clever and subtle use of these extracts to frame the action, whilst crafting a tale with its own impetus.
Many of the children in today's audience are younger than the stated 5+ target age group, but remain engaged and tickled by the onstage antics of the cast. (One small boy providing his own moment of transgressive theatre by offering a loud and helpful "Hello?" in answer to a ringing telephone). In the world of children's theatre, FX can be cues to the audience as well as to performers.
Ady Thompson's clowning over the hazards of getting yourself dressed for work sets the audience in the right mood. Rebecca Rogers is very winning as the worker, desperate to fit in and add to her tally of medals, yet equally desperate to break out and be herself. Meanwhile, proudly protective of her status as the factory overlooker, Simone Lewis gives a masterclass in physical theatre for a youthful audience. Every small gesture and facial tick tells the story of a woman fighting a losing battle to maintain order.
Besides offering plenty to laugh about and to think about, the production holds one or two beautiful moments—watch out for the radio set which becomes a giggling baby, and a moving finale filled with a sense of hope and joy.
As with previous productions from this fine company, STATIk will be loved by children and enjoyed (rather than endured) by any grown-up lucky enough to go with them.
Reviewer: Martin Thomasson