Stay With Me 'Til Dawn and Knuckleball
Stay With Me 'Til Dawn by Graham Farrow
&
Knuckleball by William Whitehurst Second Skin Theatre Rosemary Branch Theatre
(2010)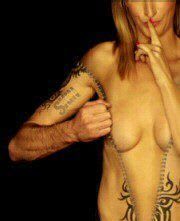 These two plays, linked by themes that explore attitudes to sexuality, violence and secret lives, pack a substantial punch. Drawing room comedy they are not and, in the close proximity of this always interesting tiny theatre, director Andy McQuade and his splendid casts make them almost too real. Come the interval, you'll probably need that drink and be glad to get downstairs to the warm and welcoming pub, but if you like real theatre and not just saccharine entertainment this is a double bill that gives full value
In Stay With Me 'Til Dawn a young lad who's not too bright seeks refuge from a stepfather who beats him and a drunkard mother in the house of a man who he's seen in the park feeding ducks and heard people say 'likes boys.' I read Matthew Haigh's performance of Nick as being a child, much younger than the actor, pre-adolescent, but he could be in his teens, retarded and still sexually innocent. Radford, the householder comes home with a bloody nose. He's been set upon by men who think him a paedophile and to make things worse two local boys have gone missing. Finding Nick there is a shock, it could put him in real danger, but he handles the boy gently, coaxing him to leave but while the child is still in the house his knife-wielding stepfather breaks in.
The violent confrontation between Peter Glover's seemingly gentle Radford and the sinewy Lewis of David Swain has our sympathy shifting surprisingly back and forth between them. Is Radford a man mourning a wife and children run down by a rogue motorist? Is Lewis a repressed homosexual? Which man is the monster?
The situation escalates in horror adding extra layers of meaning and concludes with an ambiguous image that suggests a continuing cycle of violence and serial killing. Gruelling but gripping.
Knuckleball, for those of you like me who don't follow baseball, means a slow pitch that's given a bit of spin to make it unpredictable ball. William Whitehurst's play, which forms the second half of this bill is far from slow but it is certainly unpredictable (so I'm going to be careful not to give too much away).and its back story concerns a couple of trophy winning baseball chums, one of who disappeared many years ago.
Designer Nika Khitrova sets it in a room with an open, unmade sofa-bed surrounded by boxes and piled possessions: more squat than home. It's less a real location than a symbol for the disordered life of its owner, like the bleak setting of the first play. When a young couple rush in and bounce onto the bed and immediately, fully-clothed begin to have frantic sex you think could be in for a romping comedy. Good-looking Ross (Bryan Kaplan) is so virile that even his tools smell of masculinity and Laura Pradelska's Trish is elegantly sexy and there are certainly some laughs along the way but this a play about quite serious stuff.
These two are not just hot for each other - though I can't believe Ross really needs time to 'recharge his batteries' when Trish wants to start a new bout of fellatio. They seem truly a couple in love so; why, when Ross proposes, does Trish say she can't marry him. It's not just that he's a blue-collar worker and she's a travelled, multi-lingual, cultured lady with quite a lot of money in the bank. It's a story, which Predelska's performance makes entirely believable but I'm not going to reveal it. Enough to say that, once again, it explores prejudice and repression - though here with a chance of a happier outcome.
Until 7th February 2010
Reviewer: Howard Loxton