Stephen and the Sexy Partridge
Lily Bevan and Finnian O'Neill
Osip Theatre
Old Red Lion Theatre
(2008)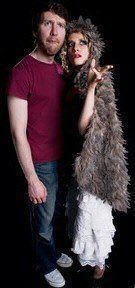 It is unlikely that Gordon Brown would see eye to eye with the feathered philanthropist at the heart of this subversive Christmas romp: as a corseted partridge tells us that Christmas is about more than spending money, you can hear the Labour cabinet choke.
Osip Theatre's crazed and ebullient story of one man and a game chick transforms the twelve days of Christmas into an episodic orgy of insurgent hens, dancing potatoes and eloquent cattle.
Finnian O'Neill as Stephen, the beleaguered boyfriend bent on procuring a faceted gift to appease his malcontent missus, and Lily Bevan as the stoic-yet-tender partridge in need of a pluck, offer performances as assured and audacious as the script that the two co-wrote.
With daft aplomb and lego-like expressiveness, Stephen traverses a peculiar ethical-gauntlet: moustached ballerinas with mock-knobs (one of which rivalled an aubergine for size) perform Gay Swan Lake; a squad of beaked Vicky Pollards are four calling birds to forget; a trio of free-range French hens, recently emancipated from their Bastille-batteries, awaken Stephen to farmyard cruelty; and a group of geeks (a pun on geese), whose pastimes include sadomasochism and Lemon Fanta, compete for five gold rings in a parody of The Weakest Link.
The production's wit, bravura and skilful execution hatch a production which, at its close, brought a dominantly youthful audience to their feet.
On a set that resembled a giant chessboard smeared in bronzer (designed by Georgina Lowe), the entire ensemble perform with sustained bravado - quite a feat given the maniacal pace the play runs at. Musical director Peter Salem's side-line contribution was both polished and vital.
The sporadically reappearing caricature of Sarah Palin - evidently an appendage to a script originally penned many months before Palin announced her political credentials to the world - offered a tone of comedy that was, quite unlike the rest of the play, rather predictable. That said, the spirit of the piece - unabashed, unselfconscious farce - allows any minor slips to be absorbed by the overriding atmosphere of fun and mayhem.
A satisfying irony was achieved thanks to the play's blatant moral curriculum. If it were any less contrived - winks and piano bursts announce Stephen's moral progression - one might be tempted to take it seriously. As it is, Bevan and O'Neill manage, by grossly exposing the text's moral hinges, to question the reliance of dramatic and literary narrative on hackneyed, Aristotelian moral plot-structures and devices.
By emphatically imitating narrative convention, convention is brought under scrutiny.
His twelve-day odyssey complete, our reformed protagonist returns to his girlfriend bearing a notably humane Christmas offering:
"I was going to get you a present but I got you me instead."
"You fuck!"
With his other half again unsatisfied, Stephen opts for another type of bird altogether. Mind the beak.
Until 3rd January 2009
Reviewer: Ben Aitken