Stepping Out
Richard Harris
Theatre Royal Bath Productions and James Grant Group
Vaudeville Theatre
–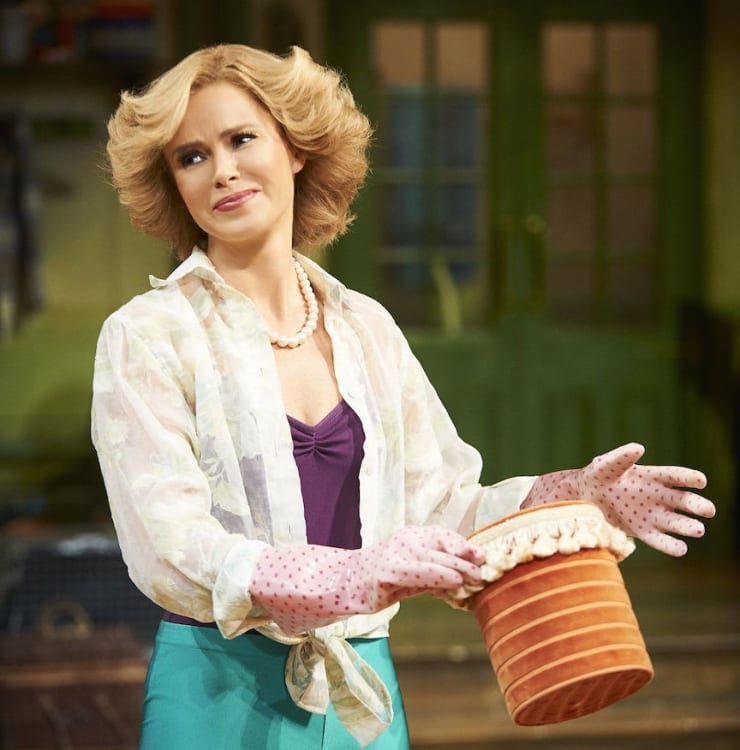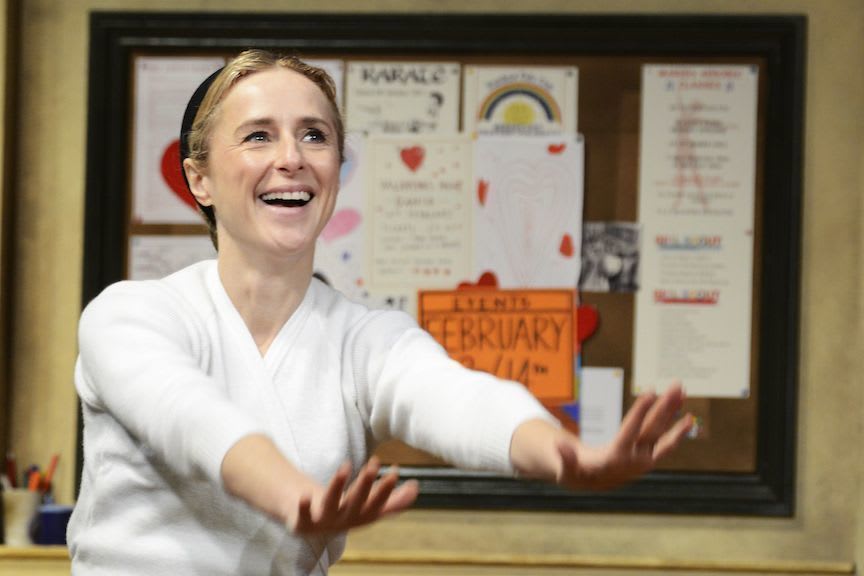 Richard Harris's comedy about a tap dance class has been turned into a movie and a musical but this revival is the original 1984 version in a production mounted by Theatre Royal Bath that toured briefly last autumn. Seven women from very different backgrounds and one outnumbered man, widower Geoffrey, meet each week in a church hall to be taught by former professional dancer Mavis.
Among them, there is the mixture of superficial friendships and hidden antagonisms seen in such groups and that is skillfully exploited for both humour and pathos. They all come to the class because they enjoy it; even Andy ("No," it's not short for anything," she tells an enquirer, "it's a long form of Anne"). She knows she's not as good as the others but dancing in a social setting releases endorphins: it makes her feel good, as it does all of them. Insecure and bullied by her husband, Lesley Vickerage shows her put a brave face on frustration even after being slapped with the backhanded compliment: "we all admire how hard you try."
Andy becomes closest to Geoffrey, who works in shipping insurance but it isn't a relationship that gets far. Dominic Rowan suggests a very private person; where the women go off to the loo to change, he hangs up a towel to diffidently change behind. Both he and Lesley Vickerage have to suggest bad dancers but still get things right!
There is shop-owner Maxine, confident, outspoken and oblivious to how others might see her. Of a play one of the others had recommended she says, "we didn't even understand the interval." Boldly delivered, it's a criticism not a confession, but Tracy-Ann Oberman gives her such enthusiasm and good intentions that you can't help but like her.
Jessica-Alice McCluskey, in her first professional role as student nurse Lynne, exactly captures both her self-deprecation as she compares herself with these older women and the effect of the first patient death she has had to handle just before coming to one class.
Rose is a big, bouncy West Indian whom Sandra Marvin makes full of life. Gum-chewing Sylvia, a loudmouthed Londoner with a chip on her shoulder, gets a lively performance from Natalie Casey. She is outraged when she thinks timid Dorothy might have reported her boyfriend for claiming benefit on false pretences.
Nicola Stephenson plays bird-like Dorothy, cycling in from her job in a Social Security office, in helmet and yellow visibility gear. Shaken up by even an attempt to steal her bike she perfectly suggest that mixture of guilt at false accusation and a law-abiding belief that she should have reported him.
The play starts with a new arrival: Vera. Though she would never suggest it, its clear that she feels she's a cut above all the others, oddly emphasised by her being so well-meaning. Though she has a cleanliness fetish and, though quite ready to get her rubber gloves dirty and clean up the lavatory, she is one of those women who automatically expect people to do things for her. Amanda Holden makes her blind to the way others might see her. Her carefully coiffed hair on its own gives a complete performance. It turns out she was once a hostess in a men's club, married a rich client who provided the nice home, the money for the expensive but inappropriate outfits.
Amanda Holden gives a very witty performance of a character who behaves like a star when she isn't. Mavis, the dance teacher, is someone who once dreamed of stardom but saw her vision vanish. As a member of the chorus, she understudied leads but never went on. For a brief moment, she's seen dancing her heart out but she has to pour all her enthusiasm into her dance class. You can see it is particularly painful when they question her authority.
Anne-Jane Casey gives a spectacular performance whether crouched on the floor marking the register or leading rehearsal with her own meticulous timing. It is an achievement that is quite an accomplishment for she is a last-minute replacement since Tamzin Outhwaite, who had been playing Mavis, fractured her foot at a run-through just before the first preview.*
Mavis not only has a career back-story but she was brought up by her parents' next-door neighbour, Mrs Fraser, who is now the group's grumpy pianist. Judith Barker makes her very funny, including an uninhibited drunk episode, but there is a debt and dependency story there that is never explored.
That is the problem with this play. We get only a glimpse into its characters' lives. You could make a serious television sitcom out of this situation; here you get only a collection of character studies and confrontations. There is the slightest of plot lines when the class are invited to perform in a charity show and have to prepare for it, but Maria Friedman's direction doesn't give you time to worry about that. One weekly class moves on quickly to another with a dance out, a lighting change, a thunderclap, or sometimes all three together, and a coda set a whole year after that charity concert provides a curtain call dance full of glitter like a panto finale.
Stepping Out isn't a great play but it is entertaining. If it weren't, it would not have the versions and revivals it has had since it was first written and this version does it proud.
*Tamzin Outhwaite returns to the role on 2 April.
Reviewer: Howard Loxton