Stepping Out
Richard Harris
Derby Playhouse
(2007)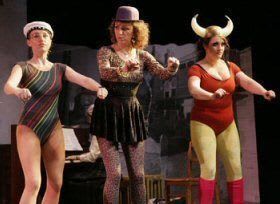 Most of the dancing in Steven Dexter's production of Richard Harris's 1984 comedy is dire, absolutely terrible. But that's exactly what the director intended.
Dexter didn't want to spend too much rehearsal time teaching the cast to tap dance - so he chose accomplished performers who could act as though they had two left feet. He likened it to the way the comedian Les Dawson had to be a talented pianist before he could play badly.
The result is a funny, slick show which leaves you with a warm glow and should get full houses throughout its run.
Stepping Out, set in a church hall, catalogues the complicated lives of seven women, one man, their teacher and pianist at a weekly tap-dancing class. The stakes are raised when the Mavis Turner Tappers are asked to take part in a charity gala, so somehow they have to raise their game to do themselves justice in their first public performance.
Dexter decided to set Stepping Out in the '80s rather than updating it to the present. His production is full of legwarmers, lycra and leotards, rekindling memories of an age when people interacted face to face rather than through "social" websites.
In recent times the Playhouse has been able to attract an amazing array of talent up the M1 to Derby. The cast of Stepping Out is no exception.
Anita Louise Combe, who's played both Velma Kelly and Roxy Hart in Chicago in the West End, does a fine job as Mavis, consistently trying to keep her class focussed on their dancing as well as having to cope with their personal problems.
Rosemary Ashe who was in the original casts of Mary Poppins and The Phantom of the Opera is a delight as Mrs Fraser, the cantankerous pianist who feels undervalued.
Flik Swan, another former Velma in Chicago, evokes sympathy as Andy, lacking in self esteem because she's in a violent relationship; Sophie-Louise Dann is deliciously over the top as pseudo-posh Vera; Suzie Chard has played the part of Sylvia before and is very comfortable as the common woman who opens her mouth before she's thought about what she's going to say; and Joanne Redman impresses as excitable yet nervous Dorothy.
Michael Cahill has the distinction of being the only man in the cast. He finds his feet as slightly geeky Geoffrey whose tracksuit bottoms are stuffed firmly into his red socks and whose timing is laughably out of step.
Any slight problems you may have with Stepping Out are down to the author rather than the cast or production team.
For instance, we never get to find out why a dancer as talented as Mavis is running a class (and presumably making little money) in a draughty, soulless church hall. And it's almost inconceivable that Vera should clean the toilets as well as mixing with those she believes are beneath her.
Having ten characters in the production means there's little time to develop all the individual personalities and the playwright is unable to delve too deeply into the tappers' dysfunctional lives.
The cast, though, do a tremendous job, bringing all the characters to life and making them as credible as possible.
Designer Francis O'Connor makes full use of the Playhouse's revolving stage with a stunning set, allowing us to see what goes on in the church hall, outside and even in the toilets.
Stepping Out is primarily a show for women although men will also get immense enjoyment out of it. When Vera bluntly tells Sylv, "I used to be fat, you know" there's an uproarious reaction from the women in the audience at this catty remark.
The finale, which allows the cast to exhibit their dancing talents to the full, is a joy and vindicates Dexter's decision to go for accomplished dancers.
Stepping Out is a sure-footed success. Take all steps to see it.
"Stepping Out" runs until November 17th
Reviewer: Steve Orme