Stepping Out
Richard Harris
Richmond Theatre and touring
(2010)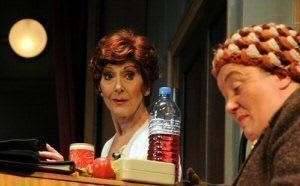 Seven women and one man sign up for a weekly tap class, which takes place in a London suburban church hall.
Richard Harris' comedy, which enjoyed a huge international success 26 years ago, offers a range of socially inadequate people, who come across as types and caricatures rather than characters.
The cast includes fat, vulgar Sylvia; sharp-tongued Maxine; trainee nurse Lynne; silly Dorothy looking after her old mum; black Rose; and lonely Geoffrey who takes a fancy to Andy, a battered-wife.
There's also Mavis who used to be a professional and runs the class; dour Mrs Fraser who plays the piano; and interfering, pretentious, tactless Vera whose husband is having sex with her daughter by her first marriage.
The unlikely group works towards an unlikely charity show, which allows them all to have an unlikely wish fulfillment finale in which they appear in top hats, tails, canes and fish net stockings – as if they were in A Chorus Line.
Stepping Out always was sub-Alan Ayckbourn and very trivial; but what the original production had in 1984 was an absolutely wonderful performance by Marcia Warren as the insensitive Vera. Warren was hilarious and finally pathetic.
The actors in the present production, regrettably, are just not good enough to hide the play's flaws. The direction is incredibly lax. The show needs to be tightened up, especially in the second half.
Touring until end of July and visiting Dundee, Edinburgh, Sheffield, Woking, Dartford, Milton Keyes, Croydon, Bournemouth, Cheltenham, Derby, Plymouth, New Brighton, Brighton, Truro.
Reviewer: Robert Tanitch