Stepping Out
Richard Harris
Oldham Coliseum
–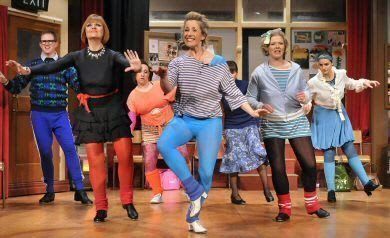 It's leg warmers and leotards onstage at Oldham Coliseum at the moment as we are taken back to the 80s when even the smallest and least-motivated dance classes in church halls and community centres up and down the country had real-life rehearsal pianists rather than tape, CD or MP3 players.
Richard Harris' Stepping Out is set in an adult tap class run by ex-dancer Mavis who rose to the dizzying showbiz heights of a West End understudy who never got to go on stage before giving up the dream. Her pupils are a ragbag of women—and one man—from very different backgrounds and with different reasons for coming. The social group is thrown into turmoil, however, when Mavis puts them all forward to perform at a local charity gala, and so they have to learn a proper routine well enough to put before an audience. The tension inevitably exposes differences between the dancers, which have to be resolved before they can pull together for the finale.
While Harris' script isn't particularly original or well-written, there is plenty of scope for fun with the awful dance routines and the banter between the clearly differentiated, if rather stereotypical, characters. The plot often stops for a string of one-liners, some of which still hit the mark but some are a bit corny or are very much of their time—such as the jokes that revolve around the "token black" (as she calls herself) character Rose. The plot is Rocky, or Up 'N' Under, or A Chorus of Disapproval, or The Full Monty, or any of those stories where a person or group has to pull together in order to try to achieve something against all the odds.
Kevin Shaw's production, with the help of Beverley Edmunds's choreography, certainly has plenty of fun with the awful dancing, building (we hope) to a big transformation at the end. Shaw's direction has emphasised the comedy to the extent of having the actors telegraph many of the jokes, which, while it gets plenty of laughs, is often less funny than if they were allowed to evolve more naturally from the dialogue. Richard Foxton has designed a set that really evokes a small hall in the 1980s with its wooden floors, mismatched chairs, wooden beams and upright piano (many haven't changed much since, although you'd be lucky to find a piano now).
Many of the characters flit between credible people and comic devices, with some notable exceptions. Recent Manchester School of Theatre graduate Emma Matthews plays the large, mouthy one with the strong local accent, Sylvia, but she comes across as a believable but larger-than-life character where she could easily have become a comic caricature, and she is very funny. In complete contrast, Catherine Kinsella is Andy, the shy, serious member of the group who gets rather too close to Geoffrey and perhaps has a dark secret at home, and she gives a beautifully-rich portrayal of this unstable, unhappy young woman that couldn't fail to draw an audience's sympathy.
As Mavis, Nicola Bolton has the authority of the adult dance teacher but doesn't have the emotional range to make some of the more serious parts of her character's journey work. Ruth Alexander Rubin gets all the humour out of grumpy pianist Mrs Fraser, as does Kate Coogan with snobbish Vera who speaks her mind rather too bluntly. Stephanie Trott has some lovely, tender moments as nurse Lynne, and there are some nice performances from Susie Fenwick as Maxine who is always trying to sell clothes to the others, Tania Mathurin as Rose, Ben Stock as widowed insurance salesman Geoffrey and Vicki Lee Taylor as overenthusiastic dancer Dorothy.
While flawed as a play, Stepping Out is largely a broad comedy that doesn't aim for subtlety and any serious elements are left undeveloped and soon blanked out by more comedy. The Coliseum has created a decent production from Harris' 27-year-old script that makes for an entertaining night out.
Reviewer: David Chadderton