Steptoe and Son
Ray Galton and Alan Simpson, adapted by Emma Rice
Kneehigh and West Yorkshire Playhouse
Northern Stage, Newcastle
–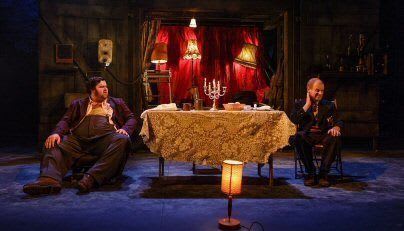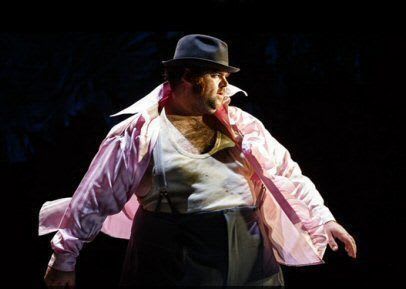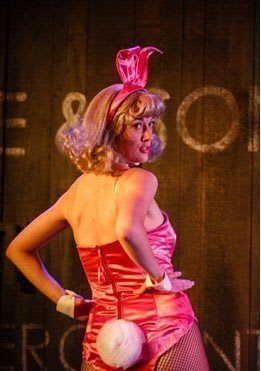 Adapting TV sitcoms for the stage is nothing new. We've had 'Allo 'Allo, Porridge, Dad's Army, The Lively Lads and an array of others and all have followed a very similar pattern: four episodes fitted into one evening with the actors recreating the original performances as closely as they can.
It's a formula which has proved popular because of the nostalgia factor – witness the glee with which audiences greet catchphrases. You can almost hear every audience member saying "Don't panic!" alongside Cpl. Jones or "You stupid woman" in time with René Artois.
Kneehigh, however, is famed for its highly physical and inventive versions of myths and fairy stories and its off-the-wall take on classic stories - Cymbeline, for example, and Brief Encounter - so a Kneehigh sitcom is unexpected and intriguing to say the least.
The first thing to say is that, although this production does follow the four episodes formula, there is no attempt to recreate the characters as portrayed by Harry H Corbett and Wilfred Bramble; Dean Nolan (Harold) and Mike Shepherd (Albert) take a different approach and find in their characters a depth which was, at most, merely suggested in the original.
Emma Rice has added another character, known only as the Woman (Kirsty Woodward), who serves as a linking character and who plays, variously, wife and girlfriend, hippie and nightclub hostess, teenage music fan – in fact, all those feminine aspects which are missing from the lives of Harold and Albert – as well as a male doctor.
Music is always an important part of Kneehigh shows and here – as in, for example, Dennis Potter's The Singing Detective – appropriate popular songs from a number of eras are used as indirect comment on the lives of these sad men: Cliff Richards' The Young Ones, The Stones' Paint It Black, Satchmo's Sometimes I Feel Like a Motherless Child, Fred Astaire's The Way You Look Tonight stand out.
And alongside the music we have Kneehigh's trademark physicality, appropriate but very incongruous dance from these unlikely people.
Thus anyone going to see the show expecting a recreation of the original is going to be disappointed but those who approach it with an open-minded sensitivity will thoroughly enjoy it. It is funny, there is no doubt about that, but it goes far beyond simple humour. The sight of the huge Harold dancing is grotesque and funny, but it is also deeply sad. We laugh but we also squirm because it exemplifies all his unattainable aspirations. Mike Shepherd's Albert is still manipulative but Rice's adaptation and direction reveals the desperation underneath and here Harold's pain is not hidden beneath a comic veneer.
All of this is in the original scripts, of course; Rice's adaptation merely brings it more to the fore and gives the piece a depth which a straight recreation of the TV series would lack.
There are some weaknesses, however. At times the music and dance is overdone, but to be honest these are blips rather than major problems. I found it funny but was left with a feeling of sympathy for these two sad men, a sympathy which I don't remember feeling back in the 60s and early 70s. Kneehigh retains its reputation!
Reviewer: Peter Lathan