Steptoe and Son
Ray Galton and Alan Simpson, adapted by Emma Rice
Kneehigh and West Yorkshire Playhouse
West Yorkshire Playhouse
–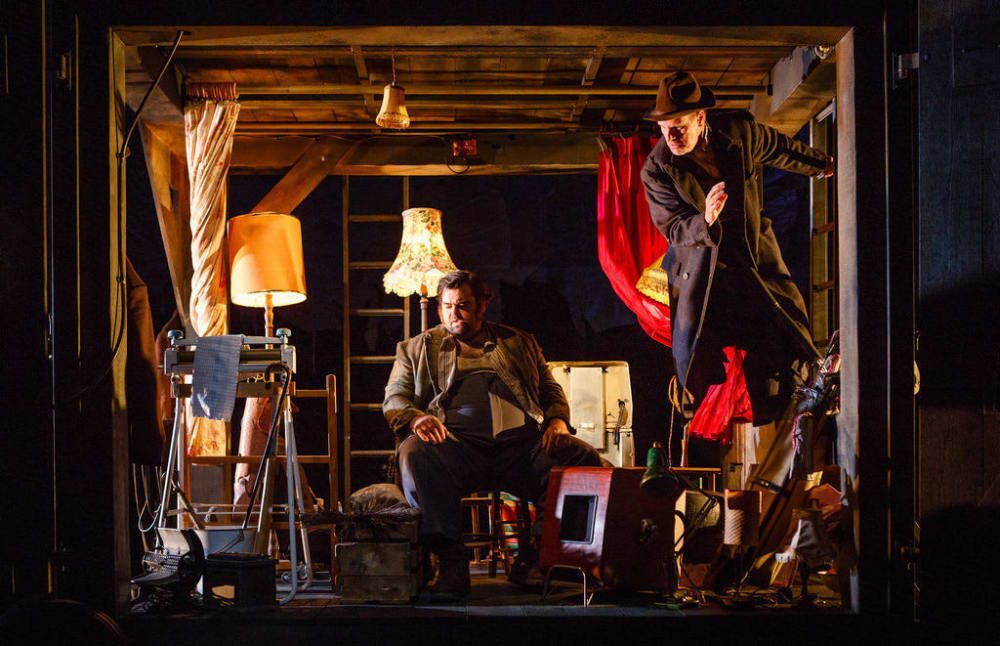 Marking Steptoe and Son's 50th anniversary, this Kneehigh production is a strange beast of a tribute. Emma Rice's direction seeks to cast new light on a selection of four episodes, trimmed and adapted for the stage and interspersed with musical and dance interludes.
The first thing to note is that this is not a straightforward staging of the much-loved TV series. Mike Shepherd as Albert and Dean Nolan as Harold are not attempting recreations of Wilfred Brambell and Harry H Corbett's classic performances, eschewing the former's cockney crackle and the affectations and morose stare of the latter. Nolan in particular, in his first show for Kneehigh, marks out his Harold as a comic creation all the actor's own, his rotundity masking a deft physicality. Kneehigh co-founder Shepherd, like Brambell cast above his age, enters the show with a physically comic sequence which references the original character but makes it his own.
All the other characters with whom the two come into contact are portrayed by 'the Woman', Kirsty Woodward, who also appears in various incarnations in the interludes between sequences, denoting the passing of time and the changes in British culture beyond the scrapyard. So we see her as a cocktail waitress, a dolly bird, a hippie, and so on, as well as in appearances with the father and son pair as a potential 'bird' for Harold and a doctor, among others.
While there are neat touches, and all three actors—Shepherd and Nolan in particular—put in sterling performances, there is a strange sense of the show falling between two stools. When Galton and Simpson's scripts are given space to breathe, as in the final story of the evening, 'Two's Company', emotional engagement with the characters comes much more naturally. Elsewhere, the unison dance interludes and occasional lipsynched or live singing performance serve only to interrupt empathy and to break up the carefully crafted rhythms of the scripts. By framing the evening in part through the concept of memory and 'the Woman' looking back over classic records from the era in question, we're taken outside the world of Steptoe and Son, disrupting not only the comedy but the Beckettian pathos of the original.
For the scripts are often darker than they are comic—a vein worthy of exploration, and when it works here it can be chilling. The show is a fitting reminder of Galton and Simpson's talents, with aspects of the production pointing up the loneliness, frustration and futility of the couple's struggles, specifically those of Harold to escape and those of Albert to hold him back.
But Rice seems desperately to want us to feel something else too, with sentimental music dripping behind some of the more heartfelt moments, and an ill-advisedly comic miming routine to Louis Armstrong's evocative take on 'Sometimes I Feel Like a Motherless Child'. This sometimes impinges on the performances themselves, and Shepherd hence becomes a far more sentimental, doting father than Brambell's mercurial, opportunist chancer.
Neil Murray's design is superb, with the rag and bone cart a multi-faceted set of its own. There are touches of magic within it, and in several sequences involving witty use of lighting and scene changes. Yet the subject matter seems to work best when stripped of these embellishments. Like the music, all these elements seem well chosen and carefully put together, but in the final analysis oddly ill-fitting with the brilliant, half-century-old stories which inspired them.
Reviewer: Mark Smith