Steptoe and Son in "Murder at Oil Drum Lane"
Ray Galton and John Antrobus (based on the TV series by Ray Galton and Alan Simpson)
Theatre Royal, York
(2005)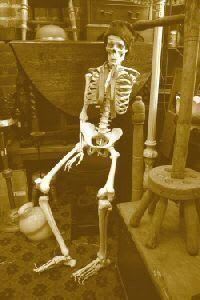 Ray Galton and John Antrobus have taken a big risk in resurrecting two of the best-loved characters in the history of British sitcom. It's 31 years since Albert and Harold (played by the sublime double act of Wilfrid Brambell and Harry H Corbett) made their last appearance on our TV screens, and frankly it's difficult to understand why Ray Galton and his new writing partner John Antrobus felt the need to disturb our memories of the great original with this stage adaptation, directed by Roger Smith (who also helmed the previous Galton/Antrobus collaboration When Did You Last See Your Trousers?)
Although Galton's old partner Alan Simpson chose not to be involved with the project he came up with the play's central premise - that Harold, goaded beyond endurance, eventually carried out his oft-repeated threat to kill his dad. The play begins with Harold returning to the scene of his crime, only to discover that the old totter's yard is now a carefully preserved National Trust property (designed by Nigel Hook). Enter the ghost of Albert, every bit as unsavoury in spirit as he was in the flesh and doomed to haunt his old home until Harold (who escaped en route to Broadmoor and has spent the past 29 years in Brazil) returns to beg his forgiveness.
So far so good, especially since Jake Nightingale (Harold) and Harry Dickman (Albert) do such a fine job of recreating the roles made famous by Corbett and Brambell. Nightingale is particularly impressive - he manages to sound (and even look) amazingly like Corbett whilst giving a fully rounded performance, not a mere impersonation. Unfortunately their best efforts are constantly scuppered by the undistinguished script, which relies heavily on the use of flashbacks (not a device one associates with Steptoe and Son).
The strangest of these has to be Albert's attempt, in the hungry 30s, to sell his offspring to the highest bidder. This turns out to be the German ambassador Ribbentrop (Michael Sharvell-Martin), who whisks Harold off to the fatherland and a new life in the Hitler Youth. What on earth inspired Galton and Antrobus to undertake this dismally unfunny excursion into Allo, Allo! territory I cannot imagine, but it wrecks what little credibility the play had managed to build up; despite some more believable scenes, such as the star-crossed romance between Harold and the saucy Joyce (Alyson Coote), it's hard not to feel annoyed at such crass mistreatment of the familiar characters.
The great strength of the original TV series was the complex relationship between Harold - a middle-aged bachelor desperate for a taste of independence, romance and culture - and the wily Albert, dirty, disgusting but terribly afraid of being left to live and die alone. If only Galton and Antrobus had devoted more effort to this aspect of the play and less to the excessively farcical plot! There is a wonderful little scene in which Harold, all set to emigrate to New Zealand, takes off Albert's hat and kisses the top of his head. Just for a moment Murder at Oil Drum Lane moves into a different gear, but unfortunately it doesn't last. The play ends with a repentant Harold, who has shuffled off this mortal coil via a heart attack, joining Albert on a spectral dustcart - pulled, presumably, by a ghostly Hercules - and driving away into the Great Beyond. Which, despite the sterling efforts of the cast, is where Galton and Antrobus should have left them.
At the Theatre Royal, York, until 12th November
Philip Fisher reviewed this production on its transfer to London's Comedy Theatre
Reviewer: J. D. Atkinson