Steptoe & Son in Murder at Oil Drum Lane
Ray Galton and John Antrobus
The Lowry, Salford Quays, and touring
(2006)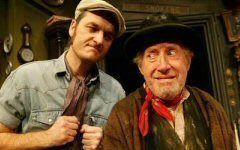 Albert and Harold Steptoe were initially created by former Hancock scriptwriters Ray Galton and Alan Simpson for a one-off half hour episode of Comedy Playhouse called The Offer, broadcast by the BBC in January 1962. The father-and-son rag-and-bone men were soon given their own series called Steptoe and Son, which ran until 1974 and, at its peak, pulled in 28 million viewers. Many of the half hour episodes were superbly written as short comedy dramas that commanded a great deal of affection from viewers for these ridiculous, frustrating and quite distasteful characters. The combination of a character who was always talking about leaving but never did and one who would do anything to avoid being left on his own could easily have come from Pinter or even Beckett, but with social awareness and mass popular appeal.
A revival of such characters after thirty years when both of the actors who were so closely identified with the characters that they brilliantly portrayed are dead has to be approached with some trepidation. Alan Simpson retired from writing in 1978, so his partner Ray Galton has teamed up with John Antrobus with whom he wrote the stage play When Did You Last See Your Trousers? and who wrote The Bedsitting Room with Spike Milligan.
The premise of the play is that Harold eventually carried out his threat to murder his father and then skipped the country. The National Trust has taken over their premises and now charges to let visitors see a typical 'totter's' yard. Harold, now aged 71, comes back to have a look and encounters the ghost of his father Albert, who needs Harold to show remorse for his murder so he can leave limbo and move onto his final resting place, wherever that may be.
Nigel Hook's stage design presents a room that looks very much like the familiar cluttered living room from the TV series, with just a glimpse of the corrugated metal gates of the junkyard over the top. Jake Nightingale and Harry Dickman as Harold and Albert respectively look and sound very much like the characters as originally played by Harry H Corbett and Wilfred Brambell. We even have Ron Grainer's original theme music, which raised a few smiles of remembrance even before the curtain went up.
In an interview in the programme, Galton says, "What we didn't want to do was have replicas of [Wilfred Brambell and Harry H Corbett] or have actors doing impressions of Harry and Willy. We thought that would be boring, unfair to the actors and unfair to the audience."
Unfortunately that is exactly what they do have. Nightingale gets a laugh as soon as he speaks for the first time, because he is so obviously 'doing' Harold Steptoe; however, he manages to act the part reasonably well within the limitations of the character he has been given. Dickman has obviously studied Brambell's gestures and facial ticks very closely, but he tends to rather overdo them, and whenever there is a gap he starts pulling faces whether they are appropriate or not.
The play itself shows the occasional flash of the comic brilliance we know from the series, but these are rare, and in fact the laughs are quite sparse overall for something based on a TV sitcom. Structurally the play is rather a mess; it can't even decide how to tell its story, as after setting the scene it is led into a flashback by painful reminiscences between son and ghostly father, but then from within the flashback it leads into subsequent scenes by characters narrating directly to the audience. This makes it very difficult to work out where we are in time sometimes and turns the play into a jumble of random events with no developing plot to keep the audience interested in what happens next. There a couple of very short scenes in the second half - one of which contains the nudity we were warned about - that are really just 'quickie' comedy sketches that take rather too long to set up in blackout to justify their inclusion.
As a big fan of the series and of the writing team that created it, I really wanted to like this play, but the brilliance of character, plot construction and comic writing that Galton and Simpson were renowned for is almost completely absent from it. It is reasonably entertaining if very slow in parts and there are some very funny moments, but this is more like the disposable comedies that Steptoe has justifiably outlasted than the timeless classics that the best Steptoes and Hancocks have become. Let us hope that Galton continues to hold out against Antrobus's suggestions of resurrecting Hancock so that we can at least remember them as they should be.
Reviewer: David Chadderton