Stevie
Hugh Whitemore
Chichester Festival Theatre
Minerva Theatre, Chichester
–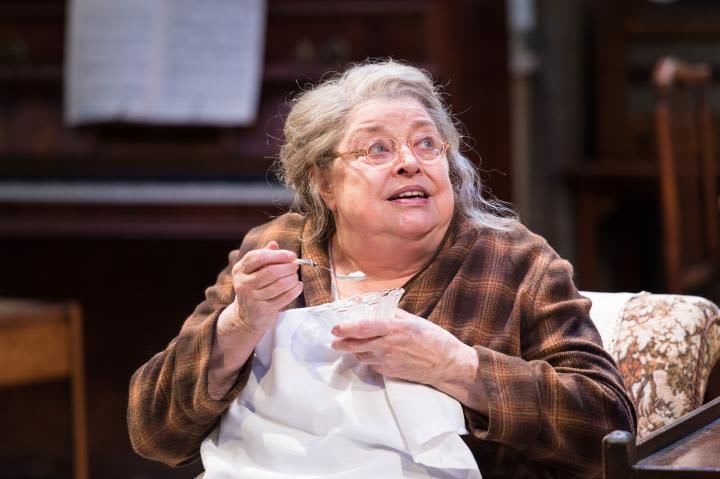 Whitemore's play gives us a fascinating insight into the life and works of poet Stevie Smith, although how accurately it is portrayed is difficult to judge as, in her own accounts of her life, truthful details are often sacrificed in the interests of artistic license. Even the name Stevie is not the one with which she was christened.
The woman was a bit of an enigma, spending most of her leisure time reclusively at home, yet not averse to social soirees with figures from the literary world and expecting her friends to ferry her about to these events regardless of their own plans.
Her home in Palmers Green, where she lived for almost all of her life, is beautifully and imaginatively created by Simon Higlett, casually elegant with crystal glasses and decanter (for the essential sherry) and a chaise-longue, yet cluttered with multiple piles of books, and an old piano stands waiting for the pianist to finish the tune balanced on the music stand.
The other occupant is the beloved aunt who has looked after Stevie since the death of her mother and insists on still calling her Peggy, regarding most of her activities as "stuff and nonsense".
Considering that Stevie suffered from depression and that death was regarded as a friend, "the only god who must come when he is called" (she even thought about suicide at the age of 8), it is amazing how much humour is contained within the dialogue which is spoken directly to the audience and a great deal of which is taken from her own writings.
When asked how and why she writes her poems, the response is, "If you brood too much you will find yourself unable to write at all. It's like digging up plants to see how they are getting on". Yet she is never flippant nor sentimental, but has a sardonic humour and an innate honesty.
"They are written", she says, "to give me ease and relief from the pressures of life". Her most famous poem 'Not Waving But Drowning' describes a man out at sea and drowning as no one understands his wave for help. 'I was much too far out all my life and not waving but drowning.' Is this how she saw her own life?
There are only three in the cast. Zoë Wanamaker is Stevie in a tremendous performance of constant and often emotional dialogue which contains large paragraphs of her writing. She relates the story of her life from the age of three to her death aged sixty-nine when a brain tumour robbed her of the power of speech and her friend Death came to claim her.
The Aunt is played in superb motherly fashion by Lynda Baron. She and Wanamaker have to age over the thirty or so years of the narrative, something they manage expertly, with the last three years being a reversal of roles as the Aunt can no longer cope.
Chris Larkin is the third character, known only as The Man, and he supplies several male characters in her life, most notably fiancé Freddy, showing the pain when they broke off the relationship.
This is a play which will keep you fascinated, stay with you long after you have left the theatre and inspire you to read more of the work of the complex character who was Stevie Smith. A terrific beginning to Chichester Festival Theatre's summer season.
Reviewer: Sheila Connor