Sticks, Stones, Broken Bones
By Jeff Achtem
Arlington Arts Centre, Newbury
(2011)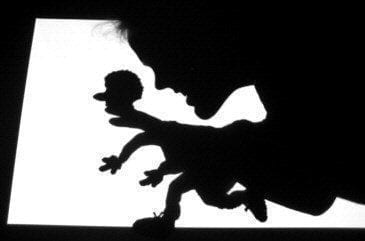 Sticks, Stones, Broken Bones at Arlington Arts Centre was a true piece of magical wizardry . Canadian born Jeff Achtem is an internationally acclaimed puppeteer who takes everyday objects that were pegged on a washing line and turns them into life-like shadow characters.
His show is a genuine delight and he had a marvellous rapport with his capacity audience - the great majority from a foreign language summer school taking place at Mary Hare - and they adored it. The show crosses all language barriers and is exceedingly physical.
No wonder he was awarded The Edinburgh Spotlight Best Newcomer and Spirit of the Fringe award at the Edinburgh Fringe last year.
What is amazing is that his creations are performed in front of you so you can watch him manipulating the puppets as well as the final shadow results on a screen.
Right from the beginning there is oodles of audience participation. He asks for a trainer from a student in the front row, which he uses when making his first character from a soft toy. This turns into a head which he then proceeds to dissect and produce some remarkable objects from inside the brain. He even dissects his own head.
It all looks so easy but demands a great deal of skill and dexterity. There is an air of the surreal as his imagination begins to run wild.
We are introduced to an elderly couple, Roger and Liz, who play a game of chess whilst finding moments of hilarious intimacy.
Jeff implores us to find our inner child to play games and he enlists the help of an audience member to become a Japanese warrior and fight a shadow Ninja which had the audience rolling with laughter.
He even created a horse race with the jockey and horse jumping the fences but ending with the rider carrying the horse - all great fun. It all ends with bubbles and confetti and a reminder from Achtem, "Don't forget there is always time to play."
This was an imaginative, whimsical, entertaining show that lifted the spirits and for sixty minutes brought out the child in us all. Enchanting.
Jeff Achtem will be performing this show at the Edinburgh Festival Fringe on 15th and 16th August at the Underbelly's Pasture and his new show "Swamp Juice" from 4th to 28th August at the Underbelly Cowgate.
Reviewer: Robin Strapp