Stiffed!
John Higginson and Clodagh Hartley
Tabard Theatre
(2010)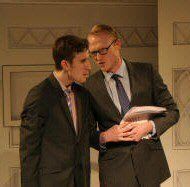 The small room above the Tabard pub in Turnham Green has been transformed into a paper version of reality - a newspaper-eye-view of the world. The walls of the set are rows of simple white panels, each with a trellis of the sort that displays newspaper headlines outside newsagents. All the props are black-and-white, cartoonish version of real objects, from the chairs and tables, to a wine bottle labelled WINE and a pretend newspaper whose headlines scream HEADLINE. The panels that line the small space also all open out as doors, and from them also folds out everything from a table in a trendy wine bar to the seats of the House of Commons. It's a brilliant way of conveying the hyper-real world of the media perceptions of political corruption and the expenses scandal. And the many deft, witty design touches perfectly complement this glass-sharp comedy.
Paula Stiff is a hardworking Labour MP who reluctantly jumps through the hoops of the expenses system. George Moore-Lys is a slimy old-school Tory elitist and serial house-flipper, paying for repairs to his roof and maintenance of his lawns from the public purse. Also stalking the corridors of power is spunky-as-they-come young journalist Sally Pauper (might these names mean something?); and a new progressive Tory MP, Quentin Dellaware, who eventually discovers and exposes the expenses scandal.
The trajectory of the play won't come as a surprise to anyone who's read a newspaper in the last year. It absolutely deals in foregone conclusions, and serves only to confirm our outrage and disgust at both the way the system was set up and the way it was played. But Higginson and Hartley's play is so relentlessly funny, so well paced, and full of such light, daft touches that it seems unfair to judge it harshly for picking an easy target. The sense of entitlement among a certain breed of MPs born into privilege is brilliantly ridiculed in the character of Moore-Lys: at one point he waxes extempore to Pauper in response to a question about education reform, and ends up effectively called state-schooled children "inferior products" and women second-class citizens. And that is just off the top of his head.
The play doesn't just stick it in to the obvious stereotypes though. It also says some interesting things about the media's role in breaking the scandal and then influencing public opinion of it. Pauper's editor, David Sphinx, is as pugnacious as a pitbull and as shameless as the MPs his paper is roasting. It's a great physical performance from Marc Wall, who practically cackles with delight at the prospect of bringing down those in power - but emphasises that the paper has to start with attacking "one of them, not one of us", and hold off on exposing the despicable Moore-Lys to first jeer at a Labour member for eating a Kit Kat at the public expense. It's a nice comment on the fact that, though there were clear degrees of misuse of the system and some individuals were guilty on a different level to others, media institutions could to some extent pick their targets to focus on as they wished. The piece also balances its viewpoint by having Stiff emerge as a fairly innocent casualty of the situation: it was a family member who put in a false expenses claim, and she is forced to take the fall to protect them. She also has to suffer horrific slurs on her character - both the suggestion that she has been having an affair, and that her husband is somehow "emasculated" by her position of power - and it seems scarily plausible that a female MP would have to endure this.
Emma Manton as Stiff and Matthew Neal as Moore-Lys embody their characters well as they argue, despair and splutter with disbelief at what is happening to them. But standout performances are from Brendan Murphy as the nervous, naïve, fresh-faced and basically decent Dellaware, and Laura Evelyn as the tenacious journalist with a taste for wine and no tolerance for bullshit. Dan Herd's direction is brisk and clear, and the wealth of visual ingenuity in the staging, as well as of intellectual content in the piece, makes this small space feel like a big deal.
Until 9th May
Reviewer: Corinne Salisbury