Still Ill
Devised by the company from material by Lauren Mooney, Al Smith and James Yeatman
Kandinsky
New Diorama Theatre
–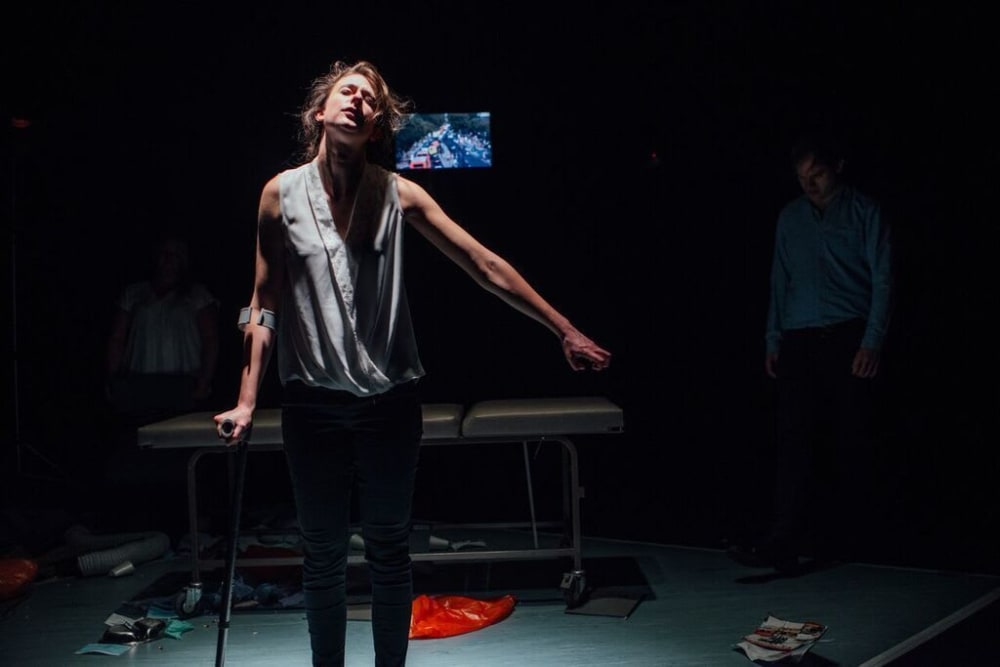 Recent plays have looked at various medical and mental conditions such as autism and schizophrenia. This one now explores Functional Neurological Disorder (FND), something you may never have heard of but which is as common to neurologists as MS, perhaps occurring in as many as one third of neurology clinic outpatient attendances.
It appears to be a problem of brain function but has no apparent physical cause, although it produces such symptoms as seizures, tremors, paralysis and blindness. This makes diagnosis extremely difficult. Symptoms very in severity, with possible periods of remission, and can be triggered by injuries and other illnesses.
Still Ill doesn't attempt explanations—there are none—but shows just what it's like. There is implicit comment too on health worker practice and obsessive Internet searching for medical information, along with a send up of TV medical drama and an intriguingly complex structure for the audience to unravel as it unfolds.
A consulting room bed on wheels is set on a diamond of vinyl flooring. It is surrounded by four spotlights and some television screens. Here, patient Sophie is being seen by Dr Hancock who goes through routine tests for muscle tone, motive power and reflex actions finding that everything is normal and we are starting Sophie's story. Or are we?
Now there's another doctor and another all doing the same thing. If you have ever been for even a minor hospital procedure, this may seem familiar. But then, with a cucumber upright between her legs, Sophie has turned into Bernard and a doctor is making a cock-up of inserting a catheter into his vegetable penis.
Walking around to test whether her gait is normal gets Sophie off the trolley and into a new scene where she has become unwell and can't see properly. Now she's Miriam, a surgeon with a brain tumour that she hasn't mentioned to her colleagues. She's at home talking to someone and they are coming up on a television screen as well as being present. She's cutting up a cauliflower when she suddenly drops the knife. (Jump a paragraph to avoid disclosure.)
In fact Sophie is on Skype talking to her brother, who has been hearing her lines as Miriam in a television soap. Those multiple doctors at the beginning were students doing role-play exercises, another job the actress does.
The play now follows both Sophie and Miriam's stories which are intertwined. Sophie finds her left hand clenching making her work impossible to continue. Her brother demands that doctors treat her case with urgency. They blame their mother's death on failure to recognize symptoms and diagnose her illness. The stress that caused could even relate to Sophie's present condition, which is deteriorating. She's told her brain and body are fine, they're perfectly normal. It is psychological they keep on telling her. Is she going crazy? Confined at home, she searches the Internet for information and another answer while her brother becomes increasingly frustrated as her carer.
Sophie Steer plays Sophie/Miriam with deep feeling. Hamish Macdougall gives Mark a mixture of brotherly affection and short-tempered exasperation and plays Dr Hancock and a succession of others. Harriet Webb is a time-stressed television director, a specialist consultant and other medics.
This is a versatile ensemble who combine precision with feeling and handle Still Ill's comic leavening without detracting from its serious purpose. The use of video, live and recorded expands the work and offers medical imagery but adds to the demands made on them.
Director James Yeatman makes an intriguingly complex structure run very smoothly, elucidation coming at just the right time. Harry Yeatman's video contribution fits in neatly and Zac Gvirtzman's live electronic music adds both atmosphere and effects, though so loud it drowned most of the words of Sophie's final song.
Still Ill shows a sufferer beginning to manage her FND but still ill. There is still no explanation and no cure. Kandinsky show how that feels. Still Ill demands our tolerance and understanding.
Reviewer: Howard Loxton