St Nicholas
Conor McPherson
Ustinov @ the egg, Bath Theatre Royal, and touring
(2007)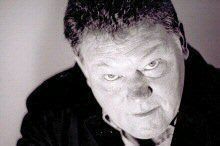 It was with some discomfort that I scribbled the odd note during Conor McPherson's St Nicholas. Not because it's a spectacularly affecting tale of life, love, angst and the passing of time, but because it's also the story of critics and vampires; and the critics don't fare too well.
Peter Dineen is reviving his role as the Dublin hack who made a career knocking off theatre reviews in an hour, passing judgement with ease, in sentences all too easily strung together, and now acknowledging in retrospect that he had "never taken the time to form an opinion. I just had them".
His nameless character tells a tale of what is essentially a nervous breakdown: a critic who decides one day that he has had his fill, and so leaves Dublin for London, in pursuit of one last dream and the beautiful young actress he can't stop thinking about. But what he finds in London are more demons: drink, despair and vampires.
This is an outstanding piece of writing. McPherson weaves a compulsive tale, laying bare a man's mid-life crisis in all its naked ugliness. It is an inebriated, vomit-strewn reflection on the loss of what he once held dear: his wife, his children, his passion for writing. And then suddenly, with the same easy naturalism, there are vampires. And they're not the stuff of legend. If vampires lurk in London suburbs, this is exactly how they live, love and party. Suspension of disbelief is perfectly achieved.
And McPherson's script is full of beautiful phrases which haunt you long after you leave the theatre: "Reason had crept into the room behind me and was caressing my neck"; "My spine melted into my belly and bubbled away there".
Peter Dineen is a formidable raconteur and delivers the tale masterfully, with an ease that makes you want to reach for your drink, as though you're sitting across the bar from him.
Critics have been unanimous in their praise of McPherson's compulsive story-telling, and rightly so. But there have been murmurs of uncertainty about the piece's lack of action, and whispered musings as to whether it would have been better performed on radio. It's 'unleavened' theatre, one has complained, lacking the visually stimulating, action-led drama we have come to expect of modern theatre.
But there is a genius and an unfettered beauty about this: one man, alone on stage, talking to his audience, telling us his story. And what a story. It's gritty, raw and fantastical. It's a challenge; it's affecting. It moves you; goads you to reflect upon what fills your days and what ought to fill your days. Why does a tale this good need action? Are audiences to be considered so incapable of reflection that they need to be spoon-fed action if they are to connect with theatre?
This is spell-binding theatre, artfully written and beautifully delivered.
'St Nicholas' runs at the Ustinov @ the egg until Saturday 8th December and ends the tour to Eastgate Arts Centre, Peebles, December 13.
Reviewer: Allison Vale