Stockwell: The Inquest into the Death of Jean Charles de Menezes
Created by Kieron Barry from the inquest transcripts
Landor Theatre
(2009)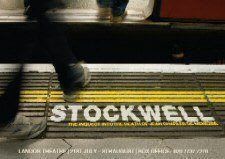 Polished, powerful and poignant.
In the studio above the Landor pub the words of police officers, surveillance officers and the family of Jean Charles de Menezes are spoken with absolute clarity and conviction. Written by Kieron Barry and performed by a talented cast of eight, elements of the inquest transcripts are performed by largely unnamed characters.
With a set consisting only of grey chairs with props and costumes kept to a bare minimum there are no gimmicks employed to tell this tragic tale of misinformation and unfortunate coincidence. It becomes clear throughout by the articulate questioning of the actors representing lawyers that human error at every level of the police system contributed to the events that day. However, given the context of the July bombings and the heightened tension in London at the time, it is possible to follow (if not necessarily agree with) the thought processes that the police considered rational to protect the public from a perceived threat.
The mixture of indifference, defiance and remorse portrayed by the characters goes far to distinguish the difference of viewpoints between the officers on the ground and those in the control room. The inclusion of testimonies by eye witnesses further complicates the versions of events offered by the police 'tribe' (as described in the programme notes) and brings the human horror of the situation sharply into focus. Complimenting these responses from members of the public were the personal comments of the family of Jean Charles de Menezes who remark without irony that he had always complimented the British police on their politeness when he'd been 'stop searched' before.
Running at just under an hour and a half this production is intense but well paced and utterly engaging. Rather than eliciting a biased response from the audience the sad facts of the case are presented from all angles and give light to both the complications and incompetence suffered and created by various police departments without losing the emotional impact of discussing the death of a real person. The point of timing is reinforced by an officer who reminds the lawyers that the final actions happened within seconds although it was in fact the succession of decisions made that morning that cost an innocent man his life.
The run is sold out
Rachel Sheridan reviewed the transfer to the Tricycle, Kilburn
Reviewer: Amy Yorston