Stomp
Created by Luke Cresswell and Steve McNicholas
Glynis Henderson Productions Ltd and Yes/No Productions
Derngate Theatre, Northampton, and touring
(2008)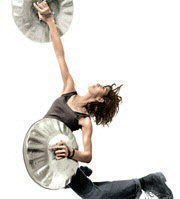 It is difficult to define a show like Stomp currently playing at Northampton's Royal and Derngate. Yes, it is percussion. Nevertheless, it is also street theatre, comedy, dance, physical theatre and a whole lot more mixed in. Whatever its definition, this is a hugely entertaining and enjoyable show.
Opening with a broom dance that manages to turn the object into anything but a broom, was both clever and interesting - looking around, pairs of eyes dared not look away from the way the performers animated their prop.
This was non-verbal communication at its best - a show that has a universal feel to it - a performance that young and old alike engage with and one that no matter where you are from you can understand.
Perhaps this is the language of rhythm. Stomp worked because there was dynamism in how this rhythmic movement incorporated into each 'routine.' During one moment the performers used their own bodies to clap, tap and stamp the sound out - growing in volume and energy but daring to drop down to the slightest of sounds.
There was simplicity as well that left one pondering the old cliché of 'less is more.' Lots of the physical comedy came from small gestures or facial expressions that meant this was more than just a group of people banging bin lids together. There was a clown-like routine with tubing, which was delightful.
One of the high points in the performance has to be the way the audience were invited to join in with the rhythmic creations. This offered an interaction that was managed brilliantly by the performers and allowed an outlet for every member of the audience - all of whom I am sure were sitting there actively tapping out the rhythms. My only regret is that it was not used more frequently.
This is the only regret though. I was concerned that the show may become repetitive if it was allowed to run, yet the director's Luke Cresswell and Steve McNicholas got the timing just right. From the delicate matches, to the magical sticks, the comic newspapers to tapping with rubbish, each and every moment was creative and well thought out. Perhaps the only moment that lost me was when the performers were up on the scaffolding, with the backs to the audience. It seemed to lose something that the other 'turned out' moments had.
The finale though, summed the show up. Power and timing. Precision and perfection. The ensemble came together to entertain and send the audience off on a high, tapping and clapping as they left the theatre.
"Stomp" plays at The Royal and Derngate Theatre, Northampton until Saturday 1st November 2008
Philip Seager reviewed this production in Sheffield
Reviewer: John Johnson