Stone Cold Murder
James Cawood
The Mill at Sonning
The Mill at Sonning Theatre
–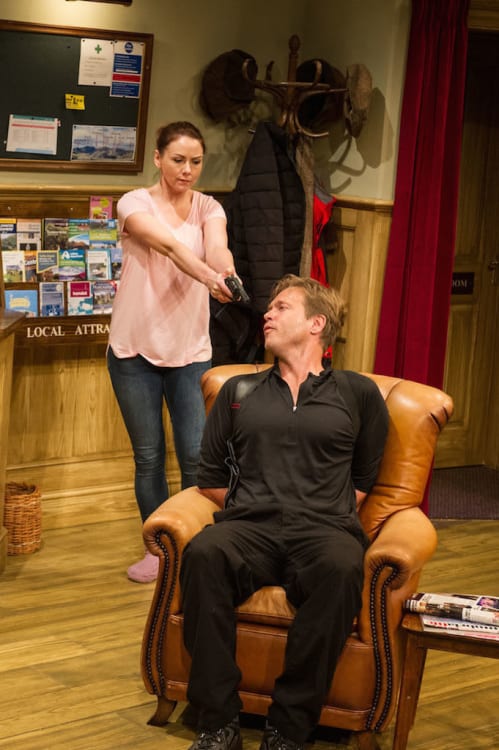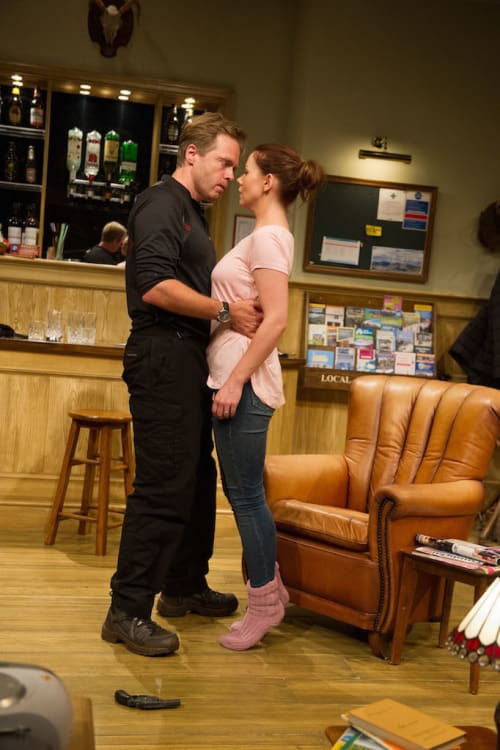 James Cawood's gripping tense thriller Stone Cold Murder received its British première at the delightful Mill at Sonning and it keeps you enthralled and guessing until the very end.
It is set in the small Langstrath Country Hotel in the heart of the English Lake District, beautifully recreated in Tony Eden's splendid design complete with wood-panelled walls with hunting trophies and comfortable, well-worn furniture and even a wood burning stove.
It's a bleak winter's evening with the wind howling outside to great effect.
The hotel, run by the recently married Olivia and Robert, is closed for the season. The couple opened the hotel six months ago to escape Olivia's violent ex-boyfriend.
So was that the mysterious masked character that appeared at the patio doors?
As they settle down for a quiet romantic night with drinks by the fire, their peaceful evening is abruptly disturbed by a mysterious telephone call and the unexpected arrival of a lost climber, Ramsey, who needs accommodation for the night.
But something is strange about Ramsay's demeanour that neurotic Olivia senses and the atmosphere becomes tense and strained, particularly when Ramsay starts to search the house when the couple have gone to bed. But what was he looking for? And what is the secret that Olivia was about to tell her husband?
What follows is a rollercoaster ride of twists and turns and double bluffs, made even more complicated by the dramatic explosive arrival of Sam Stone, Olivia's ex-boyfriend, who has been apparently stalking her. He is on a quest to find a stolen diamond.
The cast are truly splendid. Elinor Lawless brings an edgy neurotic tense quality to the part of the secretive Olivia.
As her doting husband, Robert Chappel is totally convincing, but he also has a startling revelation to make.
Paul Brendan perfectly captures the character of the mysterious Ramsay—shifty yet somehow charismatic in his devious plotting. To reveal more would spoil the plot.
Finally, Nick Waring brings a powerful performance as Nick Stone, the East End "loveable rogue", filled with menace switching from intimidation to intimacy with alacrity.
Sue Wilson's assured crafted direction created a tingling thriller and dinner is included.
Reviewer: Robin Strapp