Stones In His Pockets
Marie Jones
The Theatre Chipping Norton
The Dukes, Lancaster
–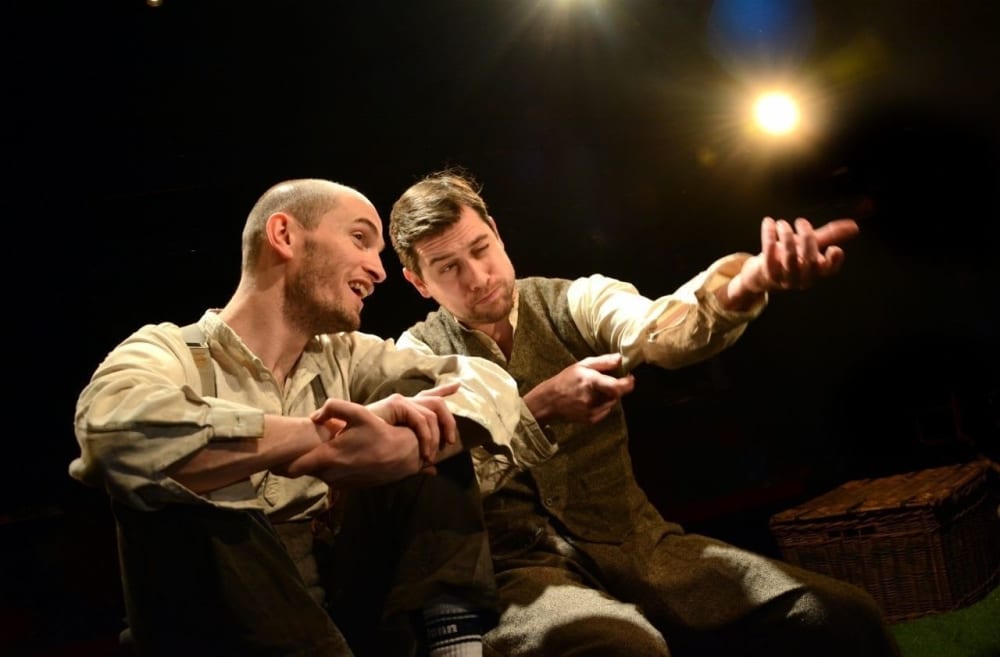 Two men play all the characters in a new touring production of this fast moving play.
We meet Jake and Charlie, played by Charlie de Bromhead and Conan Sweeny, extras on the set of a film being filmed in Ireland. Charlie is trying, unsuccessfully, to blag a pudding from the catering truck. Jake is a little more experienced. Charlie is running away from the shambles of his life in Ballycastle and really impressed that they are so close to The Glamorous American star.
The film is having a great effect on the area; many of the locals are earning their £40 a day as extras including one who is "the last living extra from The Quiet Man". "Don't you get him talking about that." Through Jake and Charlie, we meet The Glamorous American Star, the film's director, his assistant directors, Jake's cousin and family and many others.
As director John Terry points out, it is not a clash of characters so much as a collision of worlds, the one full of frustration, resentment and flickers of pride; the other full of insecurity, self-importance and a desire to be loved.
With only a few costume changes, Jake and Charlie become the characters by changes of voice and stance. We experience their life, a death and a funeral, their frustrations, the bleakness of their hard lives. The artificiality of the film world clashes with the reality of life in rural Ireland.
The rapid fire dialogue is expertly handled by Charlie de Bromhead and Conan Sweeny as are the rapid changes of character. Lighting by Alexandra Stafford catches and creates the moods.
This the first co-production between The Theatre Chipping Norton and The Dukes, an excellent start.
Reviewer: Denis W McGeary