Stop Messing About
Johnnie Mortimer and Brian Cooke
Leicester Square Theatre
(2009)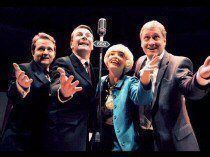 Memories of roast potatoes and Round the Horne, mushy peas and The Navy Lark, rice pudding and The Clitheroe Kid. Sundays round at my house was spent with our ears glued to an ageing wooden contraption that boasted on its glass and gold fascia access to the wireless wonders of Berlin or Luxembourg or Helsinki, but really just spouted out the best that Auntie Beeb had on offer.
As a kid, I didn't understand the double entendres. All I knew was that when Kenneth Williams or Hugh Paddick or Joan Sims started telling their tall stories, parents sniggered and children went merrily to school innocently quoting obscenities into their satchels as they relived Sunday afternoon's entertainment.
Out of this illustrious radio heritage came Stop Messing About, a two series vehicle for Kenneth Williams following the death of Kenneth Horne, and bringing together some of his Round the Horne stable-mates. Under the direction of Michael Kingsbury, two episodes of the first series of Stop Messing About, written in 1969 by Johnnie Mortimer and Brian Cooke, are lovingly reproduced on the Leicester Square Theatre stage.
Liza Cooke has created a late 60s mock-up of the BBC's Paris Theatre on Lower Regent Street, complete with ubiquitous 'Applause' signs that flash at the audience, and a rank of period microphones, sometimes over-eagerly picking every nuance of the smutty humour. Smutty it is, Williams's character being given free rein to wink and whinny at his audience in gay abandonment.
Reprising some of their original West End roles in similar adaptations of BBC radio hits of the 60s, the cast of Stop Messing About valiantly struggle with a beast that even Kenneth Williams admitted was a sad and sorry affair from beginning to mercifully soon end. Robin Sebastian repeats his Kenneth Williams impression, obviously attracting a stalwart group of admirers who catch every aside and nod and gesture, and who guffaw at his camp excesses. As a vehicle for Williams's fading career, Stop Messing About was hardly a success. Sebastian captures the desperation of a declining comic genius with ease.
Nigel Harrison is equally comfortable as the multi-voiced Paddick, feeding whimsical lines to Williams, though ultimately achieving the best laughs of the evening. Similarly, Emma Atkins as Joan Sims cruises through a characterization which owes as much to the original actor's sexual appeal as to her comic timing. All three are supported by a Horne-like straight man in the guise of BBC linkman, Douglas Smith, played endearingly by Charles Armstrong.
What follows is an evening of loud whistles and bangs, cringingly dated, sexist and, ultimately, sadly pseudo-homocentric banter, which obviously tickled the fancy of many in the audience, but which left this theatregoer strangely cold. It is quaintly shocking to think that, forty years ago, the mention of snatches and privates and Clints and cocks was deemed family entertainment. Oh, how far we seem to have progressed.
At the end of one cringingly unfunny sketch which purported to be a skit on a Hollywood Western, Douglas Smith approaches the microphone and announces in his best plumby accent, "I'd like to say I enjoyed that. I really would." My feelings precisely.
To 24th May
Steve Burbridge reviewed this production on tour in Darlington and Sheila Connor reviewed it in Guildford.
Reviewer: Kevin Quarmby