Storm in a Flower Vase
Anton Burge
Ann Pinnington Productions
Arts Theatre
–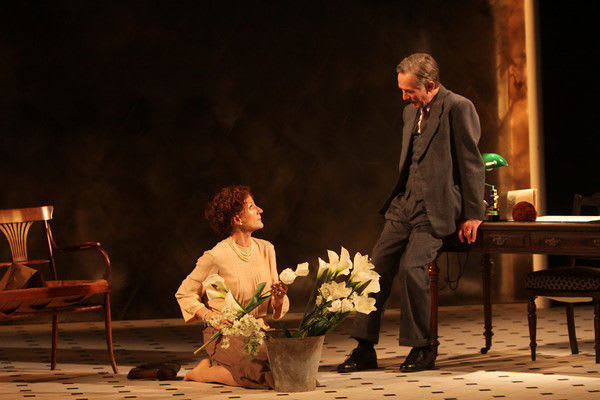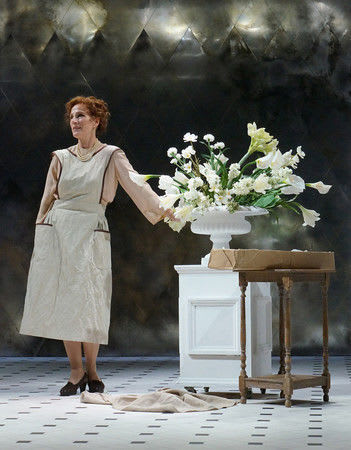 The title may sound a little twee but the play isn't. The banner description on the programme announces "The Secret Life and Loves of Constance Spry" and that's a pretty accurate description.
Spry was an Englishwoman who had a very varied career. She taught first aid, set up mother and baby clinics, worked for the Dublin Red Cross, then joined the civil service during World War I to work at the Ministry of Munitions before becoming Headmistress at an East London School.
From the time she opened her first shop in 1928, she became a fashionable florist—though her husband insisted that she call it "Flower Decoration", floristry being a trade. People like them, of course, were not in trade, which sets their social standing, so it is not surprising that they really did not want everyone to know that, though she used his name, they weren't real husband and wife, being both still married to other spouses.
That is not all she had to hide if she was to continue as the successful doyen of flower arrangement (and later also of cookery books) among fashionable London society. This play, which presents her life from 1932 to 1936, is full of revelations.
Penny Downie plays Constance Spry, a characterisation that intrigues in its balance between conformism and independent thinking. A self-styled 'child of Victoria' (she was 17 when the old Queen died) she nevertheless not only broke convention by living with Spry but tolerated his long affair with one of her administrative staff and herself became involved by the male-suited painter Hannah Gluckstein, who insisted on being called just Gluck.
She is already in her forties when the play begins, about to deliver a lecture on flower arrangement, and lectures are used as a form of punctuation through the evening in a beautifully mounted and swift-moving production.
Christopher Ravenscroft plays the "husband" discreetly carrying on his own affair as gentle and protective, calm and understated. Sally George makes Val, his mistress and future wife, practical and more self-centred compared to Constance, and gives her a sharp edge. Sheila Ruskin is Constance's stalwart work colleague Rosemary Hume, warm in contrast, always supportive.
Confidence in her own taste and a passion for white were things Constance Spry shared with her sometime friend Syrie Maugham, the interior decorator wife of homosexual novelist Somerset Maugham. Carol Royle gives her an astringent directness that matches the picture of a user that Burge has written.
Both Syrie and Constance are dressed with style that makes Val and especially Rosemary look homely by contrast, but it is painter Gluck who cuts the most striking figure in her mannish outfits including complete tuxedo. She is played by Carolyn Backhouse with great charisma: I found myself thinking of aspects of Mary Morris or even Rudolph Nureyev in the mixture of warmth, flamboyance, cool confidence and passion.
Gluck says she is in competition with Constance's love for flowers, but Downie's impressive performance suggests rather that, however passionate her feelings, she could not entirely abandoned the Victorian mores and fear of scandal inculcated in her youth.
In re-telling some of the secret stories of the 1930s, Burge has also answered a demand frequently heard today for good roles for older actresses and those in this cast do him and director Alan Strachan proud.
Designer Morgan Large has also done a splendid job with a conservatory-like set with a reflective back wall that is easily adapted from Spry's home, to shop, to Syrie's apartment and to Gluck's Hampstead home or Cornish retreat. It looks as elegant as Constance's flower arrangements (production florist Stephen Wicks).
Reviewer: Howard Loxton