Story of a Rabbit
Created & Performed by Hugh Hughes
Hoipolloi
Barbican Pit
(2008)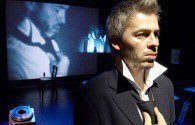 There are things that I know for certain. I know that I am female, I know that I live in London, I know that last night I saw Story of a Rabbit. These are all indisputable facts.
Through performance art Hugh Hughes aims to examine knowledge verses experience. Although having said this, in keeping with the show's ethos, this is not fact, it is merely assumption on my behalf based on my personal experience of this show.
Story of a Rabbit examines death. However in doing so, it almost becomes a show that is in fact more about life. Hughes directly addresses the audience, as he flits between two stories; the 1995 death of a neighbour's rabbit whilst in his care and the death of his Father in 2001.
Biographical in nature, this is a very personal show, not only because of the content but also through the very essence of Hughes himself. Throughout there is direct and often improvised interaction with the audience; asking late comers the reasons for their delay, requesting that we share certain experiences and even offering two lucky people a cup of tea.
I'm usually not a fan of audience participation as it feels contrived and an unnecessary device to make one feel part of the action. However Hughes manner is effortless and his childlike eagerness to communicate with his audience is very endearing.
Throughout Hughes is at pains to explain each device in his "multimedia" performance; nothing can be taken for granted. If an image appears on the back wall, he will explain why it is there and how it will be created. The constant soundtrack provided throughout by his good friend Aled Williams is also explained; why he is involved in the piece and how he is creating the effects. Of course this is interesting as, despite these efforts to ensure we understand the reasoning behind his work, ultimately he has no control over how each individual audience member will perceive the piece.
As Hughes deconstructs life and the theatrics of theatre, outlining the interchangeable nature of the two, he manages to avoid over-sentimentality. What could have become a self-indulgent, cathartic process for Hughes is instead reflective and actually pretty funny, not only because of his comedic delivery but just as you feel yourself sinking into something slightly morose he snaps you out of it by suddenly drawing your attention to the angle at which the ladder was from which his Father fell when having a heart attack.
Running at eighty minutes, Story of a Rabbit could do with shaving twenty minutes off its time. I did start to loose the connection with Hughes towards the end which is not ideal for a piece that actively seeks to engage its audience. However it must be applauded for challenging conventions of theatre. It is easy to get bogged down in the theoretical nature of this piece and question the reasoning behind each decision, however it is not necessary to leave with complete understanding. Some of the most effective pieces of cinema, to take David Lynch films as an example leave you with more questions than answers; just as with life.
As one famous man once said "Imagination is more important than knowledge" (Albert Einstein)
Reviewer: Rachel Sheridan