Straight
DC Moore
Sheffield Theatres in association with the Bush Theatre
Crucible Studio
–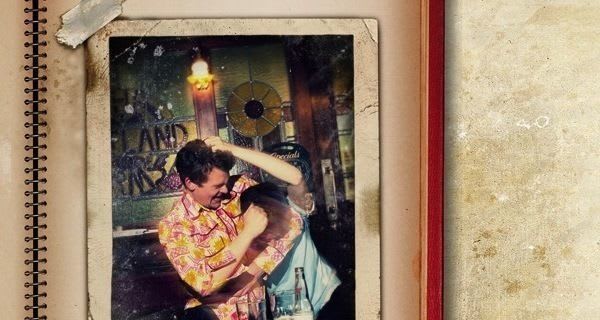 Straight by DC Moore is based on the American motion picture Humpday, written and directed by Lynne Shelton, which was screened at the Sundance Film Festival in 2009. Moore's stage version is currently being premièred at the Crucible Studio, Sheffield, and will transfer to the Bush Theatre in London on 27 November.
This is an unusual 'rite of passage' drama. A young couple, Lewis (Henry Pettigrew) and Morgan (Jessica Ransom), live in a cramped studio flat, which they bought as a letting proposition but have been obliged to occupy after falling into negative equity. Nevertheless, they are happy enough together, and at the beginning of the play, are about to retire to bed to make a baby, when they are interrupted by a penis jiggling up and down through the letter box.
The intrusive member belongs to Waldorf (Philip McGinley), a university friend of Lewis's, who has spent the last seven years backpacking around the Far East. He claims a space on the sofa, and later introduces hippy Steph (Jenny Rainsford) into the ménage. Waldorf has picked up the 'free spirited' Steph at a local convenience store, and it is revealed that Steph makes 'artistic and expressive' amateur porn films which are shown at a Humpfest in a field in Suffolk. And then burned. 'Like a ritual. Cleansing'.
Lewis is unnerved by his encounter with Steph, particularly when she compares him to Michael Gove, and is determined to prove to her and Waldorf that he also is a 'free spirit'. In the course of a long drunken evening he agrees to sleep with Waldorf and film the event.
The play has the dimensions of farce. But the language and characterisation are more reminiscent of TV sitcoms, albeit with saltier language; and there are moments of thoughtful reflection when Lewis and Morgan try to make sense of their relationship and the life they are leading.
The encounter in the expensive 4* hotel is inescapable, and this presents director Richard Wilson and the actors with the delightful problem of presenting an extended sex scene in close proximity to the theatre audience. 'It's all in the best possible taste' and very funny.
This is a fast-moving production with a great deal of pleasure to be derived from the wit of the exchanges between the four characters. Lewis and Morgan fall into familiar private language routines: 'Thank you, guv'/ 'S'alright my son'; 'I do love you, dickhead'/ 'I love you too you big fat hairy cock sucker'. Lewis and Waldorf have similar routines, presumably from their student days together. When trying to convince Lewis that the flat will be big enough for a baby Morgan goes on an extended riff, suggesting the oven would be a good place for it. 'What if the door shuts. Be airtight'/ 'No, coz it's fan assisted'.
There are strong and amusing performances from the four young actors, with Jenny Rainsford particularly convincing as the hippy Steph.
The two substantial sets (designed by James Cotterill) are impressively realistic, and the bedroom at The Royal positively opulent. There is a huge scene change during the interval.
Straight continues at the Crucible Studio until 24 November and will transfer to the Bush Theatre from 27 November to 22 December.
Reviewer: Velda Harris