Straight White Men
Young Jean Lee
David Adkin and Panorama Productions
Southwark Playhouse
–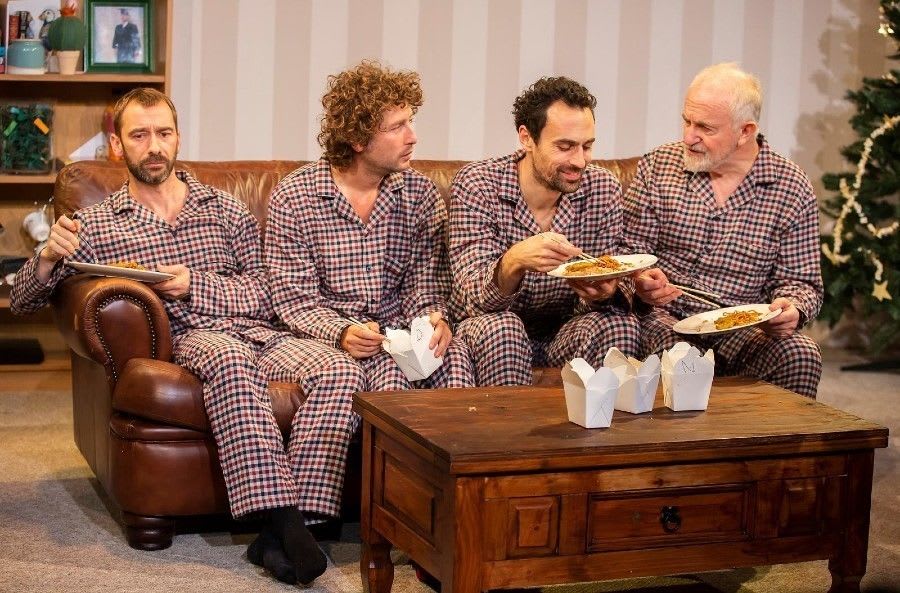 Young Jean Lee's gentle, sometimes surreal spoof on imagined liberal white men might even appeal to social conservatives if there are any with a sense of humour. Not that this show is written from a conservative point of view and to emphasise that the play is framed by two people of colour (Kamari Roméo and Kim Tatum) dressed very unconventionally, who make it clear they are the puppet masters of this story.
The straight white men are the three brothers Matt, Drew and Jake along with their widowed father Ed (Simon Rouse) who gather at the family home for Christmas. Drew (Cary Crankson) is a published writer who is paid well to teach about an hour a week. The recently divorced Jake (Alex Mugnaioni) is a banker. Matt (Charlie Condou), who has moved back home to be with his father, is a Harvard graduate who tried aid work in Ghana and is now temping at a community project.
All are in their forties but still enjoy teasing each other, play-fighting, diving onto the couch and swapping banter in the way you can see almost any group of lads in the absence of women bonding over a beer. It's harmless, generally affectionate and allows them to show feelings normally locked away during the ordinary course of life.
They may have a privileged background denied so many women and people of colour but they are not entirely the creatures of the old world. Their mother made sure of that. She even created a board game called Privilege whose every question and turn of the dice interrogates their social advantage and prejudice. Jake and Drew even dig it out for a nostalgic game. They also recall Matt's radical school protests that included his objections to an all-white cast for a production of Oklahoma. That protest took the form of a mock Ku Klux Klan version of the title song which we get to see. It's the funniest moment in the show.
As they settle down for their Christmas Eve meal consisting of a delivery of noodles and beer, Matt starts to cry, prompting the others to speculate on the cause and remedy. Drew suggests it's clinical depression needing deep therapy. Jake disagrees, arguing that Matt is "penalising himself for being a privileged white guy". He points to Matt's failure to fulfil his Harvard promise as illustrating "he is trying to make the world a better place by sabotaging himself." Ed just wants to pay off his son's student debt.
We never find out what is bugging Matt despite it being the central element of a show that lacks a plot, characterisation or even any serious purpose. Instead, we get little more than a light satiric romp whose most entertaining elements are moments of incredibly energetic dancing shaped by movement director Christina Fulcher.
It doesn't quite add up to a play that will stick in the memory, but it is good-natured enough to raise the occasional smile.
Reviewer: Keith Mckenna