To Be Straight With You
Conceived and directed by Lloyd Newson
DV8
Grand Opera House, Belfast
(2009)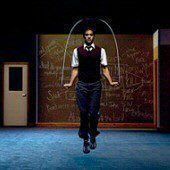 Designed and lit in the joint heritages of old fashioned stage magic and other sleights of hands, by, in turn, Uri Omi and Becky Stoddart, the physical dance theatre company DV8's touring show To Be Straight With You was expected to bring evangelical protesters to the doors of Belfast's Grand Cirque and Opera House.
For, as a headlining part of the annual autumnal Ulster Bank Belfast Festival at Queen's, the company is taking their plea for tolerance for the gay and lesbian communities into a province where Iris Robinson, wife to the Northern Ireland Assembly's First Minister and both a Westminster MP and the Democratic Unionist Party's spokesperson on health in her own right, has been vociferous in her criticism of homosexuality. Indeed, she has described it as "disgusting, nauseous, loathsome, shamefully wicked and vile" and open to cure by a particular born-again Christian psychiatrist.
Much of this production's intensely delivered plea for tolerance interweaves the poignantly dramatised statements of gay Jamaican, Iraqi, Nigerian and South Asian immigrants with those of their persecutors. These opposing sides are relatively unfamiliar to the non-Guardian reading Ulster man or woman in a part of the UK where our visitors are in the main Hong Kong Chinese, Portuguese and Poles. However, everyone in the audience will already have been well aquatinted with the confrontational exchange between BBC Radio Ulster's portly self-publicising shock-jock Stephen Nolan and the slim east Belfast politician, an exchange sparked by an horrific homophobic attack - condemned by Mrs Robinson - which took place in nearby Newtownabbey.
In case we hadn't, Director Lloyd Newson, who also included recordings of the voice of gay-rights campaigner Peter Thatchell, ran a recording of the Nolan-Robinson encounter. Hence the expectation of running a gauntlet of protesters from those sections of the public who see themselves as moral defenders opposing both Gay Pride marches and the ever-so-brief on-stage female nudity during Belfast's Lyric Theatre's production of Miss Julie.
That said, the house was packed for a presentation showing great style, enlivened by the dazzling physicality of the dancing, the precise prestidigitation of the lighting and the poignancy of tales told of the rapes and murders of gays, often by family members who cited Christian and Muslim texts as their justification. These horrors were borrowed from vox pops and Guardian columnists.
The choreography by Lloyd Newson and performance are superb with perhaps the skipping solo triumphing amongst the excellence. Even so, despite such moments of delight, the event proved a mite lengthy for those who found its proposition worthy but too unrelenting.
And the protesters? Neither Calvinists, nor blinkered Imams appeared. Instead there was merely a handful of activists from Amnesty International urging support for the cause.
Reviewer: Ian Hill