Strange Resting Places
Paolo Rotondo and Rob Mokaraka
Cuba Creative
Assembly George Square Studios
–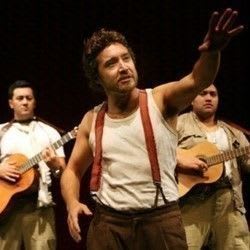 Strange Resting Places is part of the highly successful New Zealand festival at the Fringe and is a true delight.
As we enter the Assembly Two theatre, there are three actors interacting with the audience; one is offering coffee, Italian coffee since we are in war-torn Italy during the WWII.
The rapport is quickly established as we are drawn into this world that commemorates all the lives that were touched at the Battle of Monte Cassino 70 years ago.
The three versatile actors, Barnie Duncan, Rob Mokaraka and Te Kohe Tuhaka, enthral for the most enjoyable 80-minute running time.
They are all accomplished musicians and use their guitars and mandolin as guns as they portray soldiers.
This is a story of relationships, family bonds and the meaning of war and survival.
When a Maori soldier becomes lost, he confronts an Italian deserter who is searching for his family who have encamped in the monastery at the top of the hill fearing bombing and the German soldiers.
This surprising production is a theatrical joy with the cast playing multiple roles creating the characters from simple costumes found in army supply boxes.
It is also very funny with some delightful comic touches, too many to mention, but do look out for the chicken impression, the Madonna in the abbey and the clever use of hats. I really can't spoil it by revealing more.
The multiple languages and accents add a hilarious dimension as misunderstandings lead to tensions.
What is clever about the staging is the simple way they turn the comedy into some moving, serious moments such as the destruction of the monastery.
This is certainly a show to add to your must see list.
Reviewer: Robin Strapp