Strangers on a Train
Written by Craig Warner, adapted from the novel by Patricia Highsmith
Opera House, Manchester
–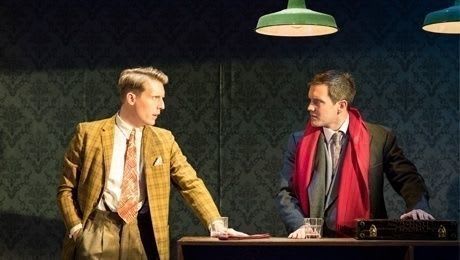 Strangers on a Train will be best known to most audiences as an Alfred Hitchcock thriller, but its origins lie in a crime fiction novel by Patricia Highsmith, published in 1950.
The premise is simple: two strangers meet on a train, swap life stories over too many drinks and end up agreeing to murder the person who is the greatest obstacle to the other's happiness. The consequences are anything but simple.
In this stage adaptation by Craig Warner, Chris Harper is excellent as the unhinged, alcoholic rich boy Charles Bruno, instigator of the pact. His exaggerated, clownish mannerisms are entertaining and provoke lots of laughs, while the character's observations on life and death are chilling. While we don't see either of the murders committed onstage, Bruno's graphic description of how he strangled Miriam Haines and the sense of power that it gives him is particularly shocking considering its origins in a book written by a woman in the mid-20th century.
Bruno's appearances onstage propel the action forward, as he relentlessly pesters the other stranger—Guy Haines (Jack Ashton)—into fulfilling his half of the bargain with letters, drawings and phone calls.
Haines, by contrast, is a much less interesting and energetic presence onstage. He does very little to stop his world falling apart around him besides stare into the distance and keep his friends and fiancée at bay. Interestingly, he is depicted as the victim, forced by Bruno into committing the second murder—we never see either Miriam or Bruno's father, meaning there is no sympathy generated for either of the actual murder victims. It is ultimately up to his new wife Anne (Hannah Tointon) to maintain a cool head and keep Guy on the straight and narrow by encouraging him to cover up everything that's happened.
David Woodhead's set for this production is a large wall divided into sections that divide and slide across the stage, revealing bedrooms, bars and train carriages like claustrophobic sections of a doll's house. In practice on the night, there are some issues with the moving parts, but in theory it's a brilliant concept that allows for rapid changes between scenes.
This staging may be truer to Highsmith's morally ambiguous novel than Hitchcock's work, but it does lack pace at times. Although music is used to create tension, there is little sense of impending doom, and the dramatic climax when it arrives is seemingly inevitable.
This production is an enjoyable watch, particularly for Harper's performance in one of the lead roles, but could be slicker and more thrilling.
Reviewer: Georgina Wells