Strangers on a Train
Adapted by Craig Warner from the novel by Patricia Highsmith
Theatre Royal, Newcastle, and touring
(2006)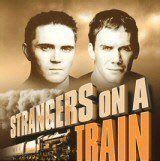 Craig Warner's stage adaptation of Patricia Highsmith's 1950's novel Strangers on a Train boasts an all-star cast of TV and stage fame.
Alex Ferns gives one of the best performances, although it has to be said, he does have the most interesting character to work with as Charles Bruno, the drunken son and heir, who hates his father and appears to have a disturbingly close relationship with his mother (recognise the plot line?)
He meets and becomes infatuated with Guy Haines, played by Will Thorp. Will gives an equally strong performance as the up and coming young architect whose errant wife is not only stifling his creativity, but also preventing him from marrying his mistress, Anne, played by Leah Bracknell.
Needless to say, a drunken plot is hatched, whereby they agree to exchange murders. The storyline then follows the gradual decline of both characters' lives and the psychological trauma they suffer as a result of their crimes.
The ever-stylish Anita Harris plays Elsie Bruno, Charles' adoring mother. It was also nice to see Colin Baker again, playing Arthur Gerard, the seedy private detective, whose mannerisms and wardrobe bear a striking resemblance to Columbo.
Andrew P. Stephen plays Frank Myers, a fellow architect friend of Guy's and Mark McCallum plays Robert Treacher. To be honest, although both of these actors gave good performances, I'm not quite sure what significance their characters play in the plot or why they were written in.
The piece was basically what I had expected, not quite melodrama but somewhere near that level. My only complaint was that it was too long and would have greatly benefited from some ruthless script editing. I believe at least fifteen minutes could have been chopped off each half with no detrimental effect to the plot line whatsoever. There were far too many long pieces of dialogue which contrasted starkly with some overly dramatic scenes, which in some cases bordered on the farcical and, without such strong actors, could have proved quite embarrassing.
As I expected for such a production, the stage set was quite striking and the sound effects and lighting gave the whole performance a very effective film noir feel. There was a lot of rolling on and off of platforms in scene changes but it wasn't too obtrusive.
The audience, although they seemed to enjoy the performance, appeared to get bored at times and there was a lot of shuffling about in seats, that is until the sound of a gunshot near the end, which was very loud. So be warned!
"Strangers on a Train" is showing at Theatre Royal Newcastle until Saturday 13th May, 2006.
Sheila Connor reviewed this production at the Churchill Theatre, Bromley
Reviewer: Diane Kennedy