Strangers on a Train
Adapted by Craig Warner from the novel by Patricia Highsmith
Churchill Theatre, Bromley and touring
(2006)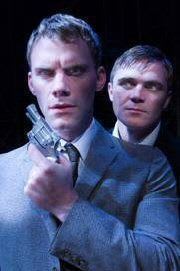 Two strangers on a long train journey. What could be more natural than to strike up a conversation feeling free to unburden themselves of any secrets or confessions safe in the knowledge that they will never meet again?
Architect Guy Haines, on a business trip, would have preferred to read his book and, as events unfurled, no doubt wished he had stuck to that plan, but playboy Charles Bruno, whisky in hand (one of many), insists on talking, and it appears that they each have a problem that Bruno is sure can be solved if they help each other out. After all, he theorises, everyone has both light and dark within – running in tandem – what solution is he about to suggest? So begins a series of incidents leading to murder and suicide, and Guy finds himself hurtling along a ride to destruction.
Written in 1951, and filmed by Alfred Hitchcock the following year, this was a first novel by Patricia Highsmith, who appears to have been a rather strange character. Lesbian and alcoholic, she kept snails as pets, and was described as "weird, unkind and dissolute" by her godchild, also "cruel, lonely and ugly" by a lover, neither of which can have added to her self confidence. Strangers was followed by The Talented Mr. Ripley, a terrifyingly cold blooded character who appealed to her so much that four more books followed. In this novel there are shades of the Tom Ripley who was to follow as Bruno obsessively latches on to his tormented hero/victim.
Highsmith was "interested in the effect of guilt", and while spoilt mother's boy Bruno would appear to have none at all, it is his partner in crime Haines who suffers agonies of anguish, even before he has committed a crime himself, the torment well portrayed by Will Thorp (previously known as Woody in the TV soap Casualty) as he progresses from law-abiding citizen to a wreck of his former self.
Michael Holt's meticulously designed and effective set moves from train carriage, to bedroom, living room etc. and a mysterious spiral staircase with creaking stairs appears centre stage, but there is rather more scene shifting than is good for it, and although each section slid, rolled, or descended accurately into place the attendant music didn't quite manage to cover the squeaks and grinds. As the tour progresses they might splash out on a little oil!
The cast inhabit their characters well; from Thorp's architect with a troubled marriage to Colin Baker's ex-cop intent on solving the murder of his friend, and multi-talented Anita Harris as the mother constantly lamenting the fact that she looked old (must have been effective make up here as she most certainly doesn't).
The most exceptional performance though comes from another former soap star, Eastenders' Alex Ferns, as his seemingly normal playboy persona gradually becomes more and more obsessive and eerily menacing, when the hatred of his father and rather unhealthy love of his mother add to the picture of a very disturbed character. Even his unsmiling publicity pictures give a hint of the evil within.
"A talent to unnerve" describes Highsmith in the programme, and this psychological thriller certainly succeeds.
Touring to Newcastle, Windsor, Cheltenham, Lowry, Sheffield, High Wycombe, Cambridge, Brighton, Woking, Richmond, Cardiff, Milton Keynes, Canterbury, Norwich, and Glasgow.
Read Sheils Connor's interviews with Anita Harris and Will Thorp
Diane Kennedy reviewed this production at the Theatre Royal, Newcastle.
Reviewer: Sheila Connor