Street Scene
Music by Kurt Weill; book by Elmer Rice; lyrics by Langston Hughes and Elmer Rice
Opera North
Leeds Grand Theatre
–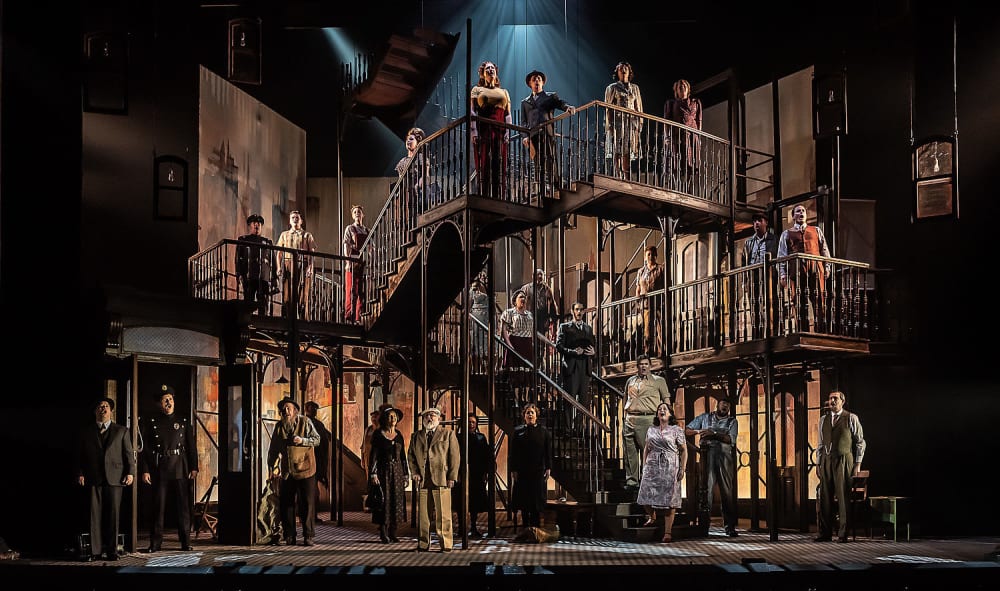 First performed in Philadelphia in 1946 before transferring to Broadway, Street Scene is widely regarded as Kurt Weill's greatest achievement and the completion of his long-held desire to make a serious dramatic work for the New York stage. A heady mixture of opera and golden-age musical, the show's influence can be felt in the works of later composers, including such titans as Leonard Bernstein and Stephen Sondheim.
Adapted by Elmer Rice from his own Pulitzer prize-winning play, and with lyrics from the great poet Langston Hughes, Street Scene captures 24 tumultuous hours in the lives of an immigrant community residing in a tenement building in 1940s Manhattan. While there is friendship and fellowship amongst the families, there is also seething resentment—particularly towards an unhappily married woman whose affair with a local milkman has murderous consequences.
At three hours long and with dozens of named parts, Street Scene can feel overstuffed at times. Nevertheless, there is much to relish in Weill's "Broadway opera"—not least the sense of a teeming multicultural community—and the show's various qualities are beautifully captured in director Matthew Eberhardt's excellent production.
One advantage of having so many characters is that the chorus of Opera North are given the chance to shine in more demanding roles. The show is filled with vivid and memorable performances, but standouts include Giselle Allen as the unhappily married Anna Maurrant and Gillene Butterfield as her aspirational daughter Rose. The latter is adored by bookish neighbour Sam Kaplan, who is skilfully played by Alex Banfield: his lovely rendition of "Lonely House" is one of the evening's highlights.
One of the great pleasures of the show is seeing so many bodies moving on the stage: Eberhardt's production really captures the sense of inner city pressure. In the past, productions of Street Scene have been performed against a brownstone façade, but designer Francis O'Connor brings the action indoors with a multi-level set composed of hallways and staircases. In addition to providing a versatile performance space, the set also conveys the weird mixture of overfamiliarity and isolation that communal living often engenders.
Conductor James Holmes is one of the world's leading interpreters of Weill's music and, under his direction, the Opera North orchestra offers a brilliant rendition of Street Scene's varied score, from the blues-influenced "I Got a Marble and a Star" to the Puccini-like "Somehow I Never Could Believe".
I have no hesitation in recommending Street Scene and eagerly await the rest of Opera North's spring season.
Reviewer: James Ballands