Street Scene
Music by Kurt Weill, book by Elmer Rice, lyrics by Langston Hughes
The Opera Group/Young Vic co-production, originally co-produced with Watford Palace Theatre
Young Vic
(2011)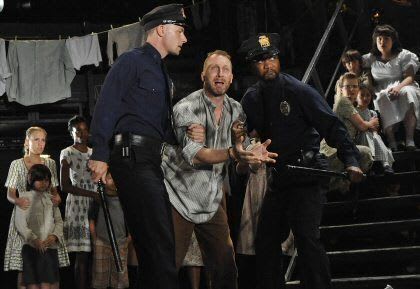 It is very rare that a theatrical production contains so many treats. Last seen at the Young Vic in 2008, Street Scene returns to the Southwark venue before embarking on a regional tour around Britain where audiences in the provinces will also be able to enjoy a cast of 14 complemented by a local ensemble of around 40 and a full size orchestra of 28 courtesy of the Southbank Sinfonia Touring.
First a stage play (1929), then a film (1931), Street Scene became an American opera in 1946 when Kurt Weill and Langston Hughes collaborated with original book writer Elmer Rice on their new project. With over 30 parts and requiring a large orchestra for full effect, Street Scene poses a real challenge to producers and therefore appears only rarely, especially in today's Arts financial climate. Thankfully though, this production is backed by a number of sponsors and funding bodies and for those who do not manage to catch this exquisite production, a recording with the BBC Concert Orchestra, who played in residency until the 20th September, has been made to ensure future audiences too can enjoy the show's many pleasures.
Not straying too many blocks from its fellow incarnations, Street Scene's narrative focuses on the inhabitants of Number 346 and their many differing lives and lifestyles. The tenement is home to a myriad nationalities and religions, each family trying to outlive the heat of a New York summer.
Gossip is the main activity of the day and when living in such close quarters no business is private. The washing hanging outside and across balconies reminds us of the phrase 'Never air your dirty linen in public' and serves as a visual metaphor for many of the play's events, much like the chalk drawings scrawled on the stage floor. Children and adults alike sketch out their dreams and fantasies, but the slate's nightmares, unfortunately, cannot be wiped clean so easily.
Street Scene is comprised of a number of interwoven narratives, although the production's spine centres on the Maurrants. Anna is having an affair with the milk collector and longs for affection and happiness whilst suffering under the oppressive reign of her husband Frank. As those around her gossip, Anna feels the pressure, and a planned rendezvous with new lover Steve Sankey ends in disaster when Frank returns from a work trip away earlier than expected.
Six families in total reside in the block, along with janitor Henry Davis. Other residents include the Swedish Olsens, the Jewish Kaplans, the rough and tough Joneses and the happy-go-lucky Fiorentinos. Lippo is Italian and Greta German, both truly in love, even though not blessed with a child as their fellow neighbours are. As Lippo Fiorentino, Joseph Shovelton delivers a wonderfully eccentric performance with a show stopping number about ice creams, which includes some witty choreography with ice cream cones. Cultural stereotyping abounds in the production and accents are employed at every opportunity to help differentiate between the many families and actors' roles.
One of the joys of the production, apart from the glorious singing and astounding orchestra, is recognising the progenitors of many musical theatre characters. It is impossible to know whether Seymour Krelborn of Little Shop of Horrors fame and awkward Sam Kaplan are related, but their stories cross paths more than a couple of times. Likewise, Frank Maurrant shares much in common with Jud Fry of Oklahoma! and so Street Scene reminds us of the evolutionary path the modern musical has taken and how all theatre is interrelated in the grand scheme of things.
There are so many strong performances and voices that the entire cast should be commended. As Anna Maurrant, Elana Ferri delivers a touching rendition of 'Somehow I Could Never Believe', whilst the Nursemaids' 'Lullaby' performed by Charlotte Page and Harriet Williams acts as a wonderfully comic number in amongst the second half's darker tones. Weill's score encompasses so many musical genres, from jazz, to blues, arias and showtunes, that it fittingly reflects and embodies the diversity of the show's characters, whilst helping contribute to the sense that Number 346 serves as a microcosm of wider society.
Under John Fulljames' direction, Street Scene is streets ahead of many other productions currently on offer in the capital. Tickets are as hot as the New York sun shining over Number 346, so be sure to book yours before it's too late.
"Street Scene" plays at the Young Vic until 1st October, then touring to The Anvil, Basingstoke (4th October), Festival Theatre, Edinburgh (7th - 8th October), The Riverfront, Newport (11th - 12th October) and Hull Truck Theatre, Hull (14th - 15th October)
Reviewer: Simon Sladen