Strictly Gershwin
Choreography and direction by Derek Deane
English National Ballet
Royal Albert Hall
(2008)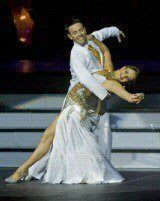 Derek Deane, who filled the Albert Hall with his in-the-round version of Swan Lake for English National Ballet, has done it again. Strictly Gershwin sold out and had to add an extra matinee.
The program - a mixture of ballet, ballroom and tap – not your usual ballet program - is danced to the songs of Ira and George Gershwin and pays homage to the big Hollywood musicals of the 1930s and 1940s.
The corps, led by Fernanda Oliveira and Guillaume Cote, have a lot of fun with An American Paris as nannies with prams, gendarmes, matelotes and cyclists. There is so much going on that it is difficult to take it all in.
Strike Up the Band goes with a parade-like swing.
Fascinating Rhythm is the perfect finale.
A major bonus is the legendary 80-year-old Barbara Cook who is cheered on every entrance and sings such songs as I've Got A Crush On You, But Not For Me, Someone To Watch Over Me and A Foggy Day incomparably.
The ballroom dancers, Lila Kopylova and Darren Bennett, the popular stars of the BBC's Strictly Come Dancing, dance niftily to It Ain't Necessarily So and Someone to Watch Over Me.
Tap dancers Douglas Mills and Paul Robinson tapping energetically to Fascinating Rhythm and Lady Be Good even get on top of the grand piano to give it a good hammering.
ENB's corps, boys and girls, in top hat and tails and with canes, tapping away is an unexpected sight.
The costumes are glitzy.
Gareth Valentine, the conductor, bounces up and down like an excited little boy.
The show is great fun: good, clean, popular entertainment for all those who don't go to ballet and love the old fashioned razzle-dazzle of show-business and vaudeville.
The one big mistake is the projection of photographic images of Hollywood icons whilst the dancers dance. It is not fair on the company to have to dance whilst Fred Astaire and Ginger Rogers loom large. The images are distracting.
I have no doubt that Strictly Gershwin will be back.
Reviewer: Robert Tanitch