Strictly Murder
Brian Clemens
Hello World Productions
Yvonne Arnaud Theatre, Guildford
–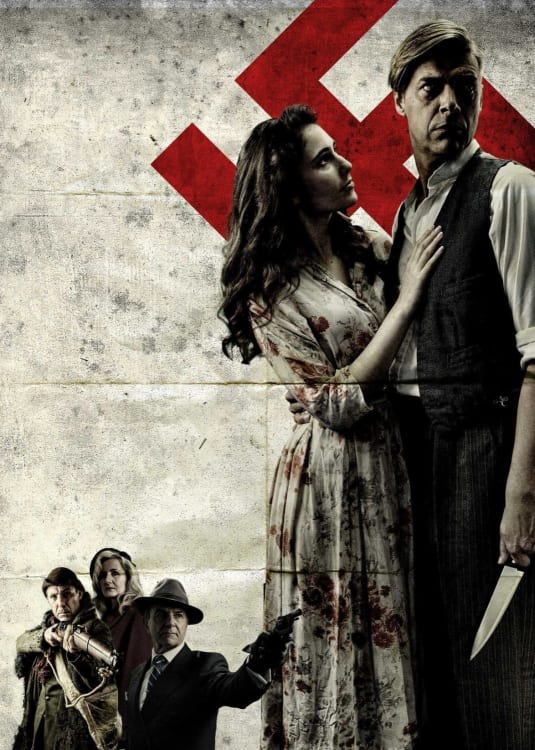 "Murder ain't what it used to be" states Brian Clemens in the programme notes, regretting that with today's technology secrets and lies are all too easily revealed, so he has set this play in a rural cottage in Provence in 1939 with the only method of communication being a crackly radio which picks up both English and German broadcasts.
Here live a young couple, Peter Meredith and Suzy Hinchcliffe (Lara Lemon), remote from the impending war, but the first person we meet is their strange, brain-damaged neighbour Josef (Andrew Fettes) who sneaks in carrying a rifle. Maybe the war is not so far distant as they had thought.
Edward Patrick White's music plays a very large part in this production. The scene might appear one of cosy domesticity but the rhythms and the beat underlying the action give an urgency and an apprehension that all is not quiet on the western front, a feeling which is not lost even when the music stops.
The score changes for the emotions of different characters and is particularly relevant emphasising the broadcast speeches from Churchill and Hitler where Josef's "Seig Heil" and salute comes as a surprise, giving a suspicion that he might actually be the enemy. His accent is indeterminate.
The cosy domesticity is interrupted with the arrival of a stranger—Brian Capron giving a very good impression of a used car salesman, all affability and good humour but with the feeling that this is not a man to trust, and with good reason as it turns out. The story continues with the clues, counter-clues and red herrings essential in a good murder mystery, taking in poisoned wine, a knife held carelessly (or threateningly), a rifle or a gun to hand, an incriminating hat left behind and the possibility that a dismembered body has been thrown into the cess pit.
The author, with television series such as The Avengers and The Professionals among his many credits, is no stranger to writing a good thriller and Samuel Clemens directs his father's play with meticulous care to keep the mystery alive, succeeding extremely well almost to the end when 'the second coming' of Capron accompanied by Corrinne Wicks in a blonde Marlene Dietrich wig caused me to lose credibility.
Up until that point I had been enjoying the mystery, impressed by performances, and moved and manipulated by the music at every turn, but somehow the menace, which at that point ought to have been palpable, was lacking.
I do have to give a special mention though to Gary Turner who was constantly credible throughout as Peter Meredith and it was altogether a very enjoyable evening which kept me (and I think the audience) glued and involved.
Reviewer: Sheila Connor