Strictly Tap Dance Fever
Choreographer: Emma Rogers
Darlington Civic Theatre and touring
(2010)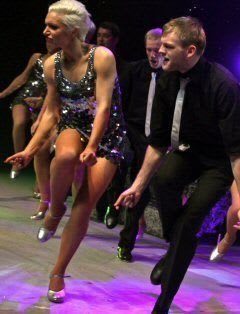 Billed as 'a whistle stop tour of the greatest tap dance moments in show business history', Strictly Tap Dance Fever certainly has the audience tapping their feet and clicking their fingers. Accompanying the nifty footwork were the obligatory yells of 'Hup!', 'Hey!' and 'Wehay!' from the male members of the energetic and talented young company.
Routines set to numbers including It Don't Mean a Thing if it Ain't Got That Swing, Putting on the Ritz and 42nd Street added a sassiness, sophistication and style to the proceedings, and the choreography by Emma Rogers was, at times, quite breathtaking.
The performance was led by Steven Serlin, whose rendition of Mr Bojangles was spine-tingling, and Lara Denning. Unfortunately, Miss Denning lacks the voice, charisma and stage presence of a leading lady and this is emphasised when she attempts to tackle the big, belting numbers made famous by Ethel Merman and Peggy Lee.
I could not help but see the irony when, during her performance of Bye, Bye Blackbird, she sounded like a squawking, starving fledgling waiting to be fed a worm.
That aside, the show is a real crowd-pleaser and the first-night audience at Darlington Civic received it with rapturous enthusiasm.
Reviewer: Steve Burbridge