Strife
John Galsworthy
Chichester Festival Theatre
Minerva Theatre, Chichester
–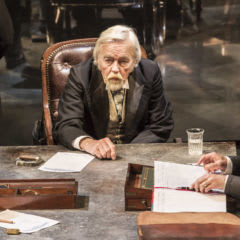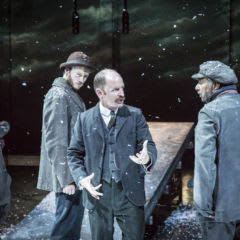 Assaulted by sound and vision, intensified by myriad reflections from Robert Jones's metallic set, the impression of being in the middle of a tin mine is even more impressive as a gantry swings into position carrying a gigantic block of red hot metal which descends centre stage to become a board room table and a change of venue.
So begins the confrontation between men and management, something which the stubborn, unbending attitude on both sides gives little hope of a solution. Does this seems at all familiar?
The workers here have been on strike for several months and the one big difference between today's problems and that in 1909 is that there was no benefits system to fall back on. No work, no pay, no food.
This is a story we have heard many times before—the poor downtrodden workers being exploited by the cruel and unfeeling management and this is how it appears at the beginning, but Galsworthy's version is not quite so straightforward as he leaves the politics aside to concentrate on the personalities involved, the reasons for the strike, why it's almost impossible to resolve and makes no judgements either way. 
The directors of the Trenartha Tinplate Works are (vaguely) aware of the suffering of the men and their families and some sympathise with their plight, but they are also very aware of their shareholders and the need for profit. The workers and their families might be starving and freezing (it is now the middle of winter) but they have spirit and a pride which refuses any kind of charity, and they believe they have justice on their side.
What it all boils down to though is the unreasoning stubbornness of two men, both determined not to give in whatever the cost.
Chairman, seventy-five-year-old John Anthony, has defeated four strikes in thirty-two years and believes "There is only one way of dealing with men … with an iron hand", arbitrarily refusing any suggestion of a discussion. "No compromise!"
Although no longer supported by their union, the leader of the striking men, David Roberts, (a determinedly belligerent Ian Hughes) is equally determined to carry on with the fight to the bitter end, and it turns out to be very bitter indeed.
Bertie Carvel, in his directorial debut, has begun with a dramatic flourish in the opening scene and there are some stirring and emotional scenes, particularly as he depicts strife not only between the two main protagonists but between members of the board, between the workers and their wives and between John Anthony's two children Enid and Edgar.
One particular event has the men standing, as snow falls around them, listening to the impassioned speech of their leader trying desperately to keep them focused and committed to the cause.
Lizzy Watts as Enid superbly conveys a woman torn in her sympathies and localities, switching from concern for the starving workers to more concern for her father's failing health, while brother Edgar (Mark Quartley) feels responsible for plight of the men and their families and intends to rebel against his father and end the dispute.
Even from a wheelchair, William Gaunt dominates the production in his role of John Anthony and even more so as he struggles from it to protest at the events and his shock at losing control. His slight touch on the shoulder of Roberts as he falteringly leaves the scene is the suggestion that he recognises a worthy adversary and one not so very different from himself.
Reviewer: Sheila Connor