Stuart: A Life Backwards
Jack Thorne, based on Alexander Masters's book
Crucible Studio
–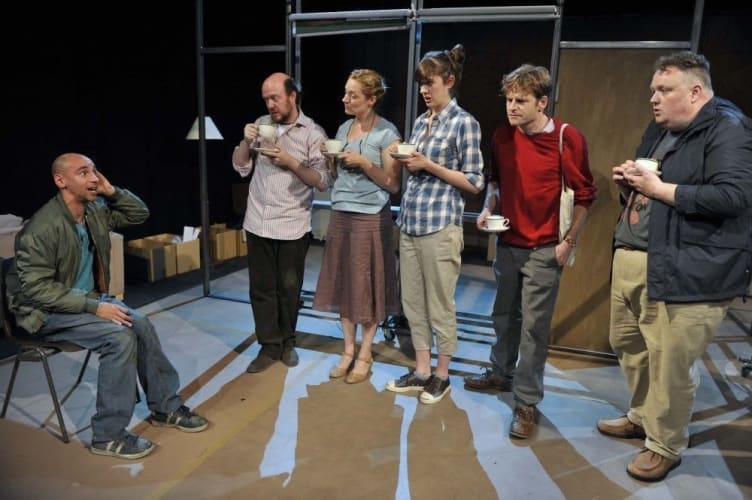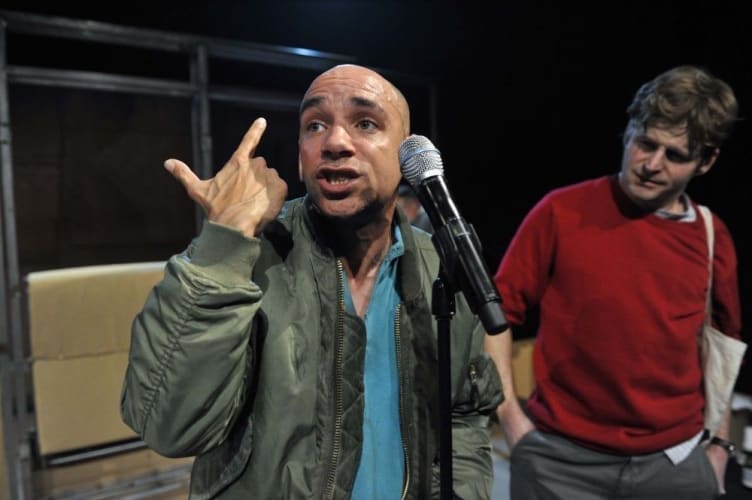 What could be more important than a play that opens up understanding of a damaged underclass, sleeping rough in the streets of Sheffield and other major cities or eeking out an existence in hostels and bedsits?
Sheffield Theatres has a reputation for putting on challenging and thought-provoking plays as the first production of the year in the Crucible Studio. Jack Thorne's Stuart: A Life Backwards, based on Alexander Masters's book of the same name, is no exception.
The play presents a series of encounters between two real people: the liberal, highly-educated, socially conscious Alexander Masters and Stuart Shorter (now deceased), a damaged, violent psychotic with a history of drug and alcohol abuse and at least one period of imprisonment.
A surprising relationship (not quite friendship) develops between the two men. Masters is dominated by Stuart's eloquence / verbosity and his frequently crushing honesty, and is compelled to understand what led Stuart to the situation he is in. Stuart colludes in this by suggesting that Masters tries to find out "What murdered the boy I was".
The plot weaves backwards and forwards, and only in the later stages becomes a retrospective examination (Freudian-style) of the destructive events that formed Stuart's personality and behaviour.
Jack Thorne's brilliant and evocative use of words provides Fraser Ayres as Stuart with a street language that is entirely convincing and often amusing, as is his remarkable performance as a sufferer from muscular dystrophy, which he sustains throughout the action, on and off set. It was a relief to see him stand up straight at the curtain call.
There are excellent performances from the whole cast. Will Adamsdale as Alexander Masters explores the complexity of this character to the full. There is a parallelism between his posh impotence and Stuart's more obvious damage, but he deals well with the difficult relationship and doesn't come over as a user who is simply going to "write Stuart up", though the occasional interpolated tape recording sounds do hint at exploitation.
Mike Goodenough plays Fat Frank and several other characters, Sophie Russell is a sympathetic girlfriend and John Cummins and Kirsty Woodward join the supporting cast in a frenzy of rapid costume changes and quickly assumed minor character roles with a range of accents or quirks.
The open staging (Jon Bausor) works well, with metal frames efficiently rearranged by the cast to provide a range of different venues. The scene changes are conducted with wit and humour with actors often representing inanimate objects to the amusement of the audience.
Where I think the open staging convention breaks down is in the final and excruciating revelation when fumbling with blankets and cushions diminishes the enormity of the event. I was reminded of the scene from Barry Hines's Kes when the brutal brother kills the kestrel. This scene should have had the same impact but didn't.
There are four pages of statistics in the programme provided by The Big Issue. Amongst many other statements: "Rough sleeping is the most visible and extreme manifestation of homelessness, but it's only the tip of the iceberg", and, "Shockingly, the average age of death for homeless people is just 47".
Stuart: A life Backwards continues at the Crucible Studio until Saturday 28 September.
Reviewer: Velda Harris